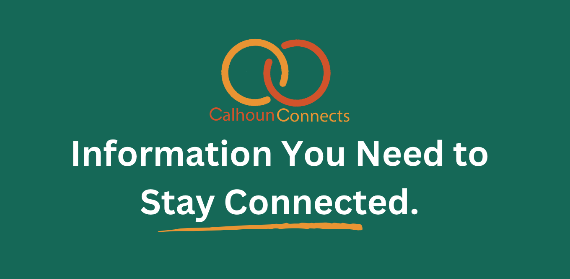 NOVEMBER 2022 | COMMUNITY NEWSLETTER
WHAT IS CALHOUN CONNECTS?

Calhoun Connects is an information resource by the Library. We are committed to building AWARENESS, fostering COLLABORATION, & ensuring ACCESS for all to information and opportunities.


This month's theme is COLLABORATION.
SIGN UP FOR EMERGENCY ALERTS

Stay informed and up to date on emergency alerts and community messages by visiting www.calhouncodered.com to enroll. Calhoun CodeRED is a collaboration between Emergency Management, Law Enforcement, Municipal and County government, and the Library to get the info you need quickly by phone, text or email. Call or visit the Library to get help enrolling or to change your message preferences.


"Sign up for Calhoun CodeRED; it could save your life."
- Calhoun County Sheriff Thomas Summers, Jr.


HEALTH AND SOCIAL SERVICES ASSISTANCE

We are so happy to welcome Ms. Terri Williams Parker to the Calhoun County Library! She is our new Health and Social Services Manager. This position was made possible through a grant from the South Carolina Center for Rural and Primary Healthcare and will provide more resources to help community members navigate and access health and social services. The SCCPRH is collaborating with several across the state to improve health and strengthen community partnerships, and the Library is excited to better serve the community.



Some of you may recognize Terri because she is a native of Saint Matthews. If you see her out in the community or at the library, please say hello!
We are proud to spotlight Calhoun County's Community Development Center this month.

Their mission is to sustain and enhance the quality of life for County residents by providing county-wide community and economic engagements through housing, recreation, education, healthcare, job creation, and recycling. In turn, county residents will enjoy more diverse communities, economic vitality, and social interaction.

If you have not been to the Community Development Center yet, visit them at 101 Courthouse Drive, Saint Matthews (behind the library).



Calhoun County Community Development collaborates with numerous agencies and organizations to advance the community. Drop in to find more information about employment, housing, recreation, education, and healthcare in Calhoun County. While you visit, you can get a latte in the cafe, find items in the gift shop, and get information about programs and services in Calhoun County for visitors and residents to enjoy!


Tri-County Electric Annual Meeting
Sat, 19 Nov 2022 9:00am - 2:00pm
6473 Old State Rd, St Matthews
Drive-Thru Only Registration, Livestream Business Meeting to follow at 2 PM - Registration Gift!
Ft. Motte Oyster Roast and Shrimp Boil 2022 @ Historic Hane Cannery
Sat, 19 Nov 2022 4:30 - 8:30pm
1060 Col. Thomson Hwy, Fort Motte
Since 1950 Ft Motte has been home to the
"Best Oyster Roast in SC"!
Thanksgiving Eve Bash with the Gaspumpers
Wed, 23 Nov 2022 7:00 - 11:00pm
Calhoun Hills Golf Complex Club House
Come dance, party, singalong, enjoy a cold beverage and have an unbelievable time!!!
Porkchop Productions – Holly and the Christmas Kerfuffle
Tue, 29 Nov 2022 5:00 - 6:00pm
Calhoun County Library
With only a few days left before Christmas, toys are disappearing from the Toy Safe in Santa's Workshop and Holly the Elf is determined to get to the bottom of the mystery!
Sandy Run Ruritans Meeting
Tue, 06 Dec 2022 7:00 - 8:00pm
Sandy Run Community Center
Monthly meeting of Sandy Run Ruritan Club. We promote fellowship, goodwill, and community through service. Visitors Welcome!
Department of Social Services – Snap2Work Program
Wed, 07 Dec 2022 10:00am - 5:00pm
Calhoun County Library
Work Readiness Training (resume writing, interviewing skills, adult education, computer skills, etc.) Vocational Skills (CAN, CDL, Phlebotomy, etc.) and MORE!
St Matthews Christmas Parade
Sat, 10 Dec 2022 5:00 - 6:00pm
Downtown St Matthews
Christmas Parade! More details to come.
Calhoun County Council Meeting
Mon, 12 Dec 2022 5:30 - 7:00pm
Calhoun County Annex Building
Calhoun County Council Meeting
Calhoun Gives Info Session
Wed, 14 Dec 2022 2:30 - 5:30pm
Did you know…? Nonprofits in Calhoun County can double the gifts of supporters by participating in Calhoun Gives? Come to the info session to learn more.
The Spirit of Cameron Christmas Show
Fri & Sat, 16 & 17 Dec 2022 7:00 - 9:00pm
Sun, 18 Dec, 2022 3:00 - 5:00pm
Cameron Auditorium
The Spirit of Cameron Christmas Show with over 40 local cast members.
23rd Annual Sandy Run Christmas Parade
Sat, 17 Dec 2022 10:00 - 11:00am
1635 Old State Rd, Sandy Run
This year's theme will be "A Christmas Comedy."
Holiday Day in the Park
Sat, 17 Dec 2022 2:00 - 9:00pm
Calhoun County Recreation Presents: Holiday Day in the Park; Free Movie – Elf, Bounce Houses, Food Trucks, and More

ANNOUNCEMENTS

2022-11-1 – Youth Basketball/Soccer Registration
WINTER BASKETBALL BACK IN CALHOUN COUNTY!!! REGISTRATION CONTINUES FOR FALL SOCCER. Boys ages 4-14 & Girls ages 4-12. Register online at calhouncounty.recdesk.com or stop by JOHN FORD COMMUNITY CENTER, 304 AGNES ST ST MATTHEWS SC 29135 (Monday-Friday, 8am-5pm). Interested in being a coach or sponsor? Call 803-655-7514

2022-10-15 – Winter Coat Drive
Mayor and Town Council announce their Winter Coat Drive and are accepting new and gently used children's coats until November 18, 2022. Please drop them off at Town Hall. Coats will be disbursed to those in need.
2022-09-23 — Employment Opportunity – Town of Cameron
The Town of Cameron is accepting applications for a Public Works -General Laborer. This is a full time position. An application and job description may be picked up at Town Hall during regular business hours or by requesting one online at: townofcameron@windstream.net. The position is open until filled.
2022-09-18 — Employment Opportunity – Digital Marketing Intern
The Library is piloting a student marketing internship program. If you are in an university Communications or Marketing program and want experience working with a professional digital strategy firm, contact Kristen at ksimensen@calhouncountylibrary.org for a position description and an application. Up to 50% of work can be done remotely once trained. Open until filled.



Each month, we will feature a dog that is currently available for adoption at the Calhoun County Animal Shelter.


Midnight, 1 Year Old
Midnight showed up to a woman's house who wanted to keep him until she found him a home, but he jumped up too much and she was afraid she would get hurt. He is fully vetted. He is believed to be a cattle dog mix and is full grown.


Take him home! For more info visit:
https://www.adoptapet.com/shelter/191725/available-pets/dogs
CALHOUN GIVES

Did you know...?

Nonprofits in Calhoun County can double the gifts of supporters by participating in Calhoun Gives?
Calhoun Gives is a local event that supports Central Carolina Community Foundation's Midlands Gives Day.
Midlands Gives Day is on Tuesday, May 3, 2023.
Registration in Calhoun Gives is free.

How does it work...?

1. Industries, businesses, and individuals across South Carolina make challenge grants to Central Carolina Community Foundation to stimulate local giving. Businesses and individuals can earmark a challenge gift to support a specific non-profit also.

2. Non-profit organizations register to participate starting in December 2022.

3. Supporters of non-profits make their donation on Midlands Gives Day to the organizations they want to support by using the Midlands Gives online form and a credit card. Supporters don't have to come to a Calhoun Gives reception to donate, but they can if they want to enjoy some good food, beverages, and company.

4. The Library works with the Central Carolina Community Foundation and other donors to solicit challenge funds. Challenge grant funds can turn a $25 donation into $50 for the non-profit chosen by the donor.

5. The Central Carolina Community Foundation also awards prizes to non-profits throughout the day. (One of our non-profits last year was awarded an additional $1,000!)

6. Central Carolina Community Foundation provides documentation to donors for tax purposes.

If you work with a charitable organization committed to creating a better Calhoun County, please consider participating in Calhoun Gives!

For more info
email calhounconnects@calhouncountylibrary.org

Attend a Calhoun Gives information session
Wednesday, Dec. 14 at 2:30 pm at the Library.