 July 2023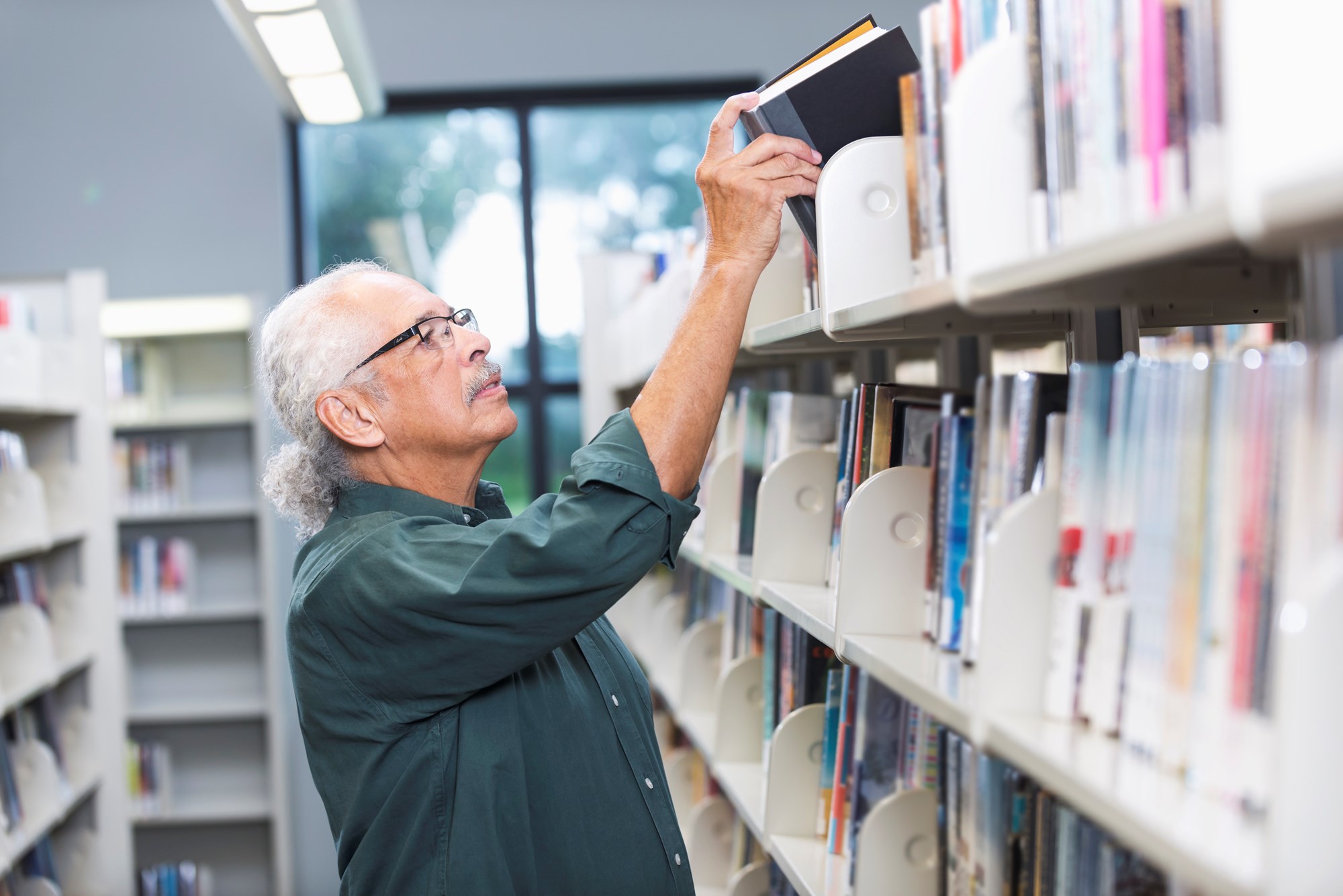 Adult Services Notes
Library of Virginia Training
Front Line Customer Service
In this six-module interactive and skill sharpening, library employees will learn, explore, engage and grow personally and professionally through videos, exercises, knowledge checks, and more.
Participants will explore and apply skills to create relationship-building experiences, even with the most difficult customer.

Course is accessible through 9/30/2023
News from Library Development & Networking
RUSA Online Training Reports
In partnership with ALA's Reference and User Services Association , LDND is delighted to offer training opportunities for Virginia library staff. this spring, we awarded 21 seats in RUSA online training classes.

Scholarship recipients are asked to report out on key points or topics. Read the reports below.
Taking Charge of Your Career

Nideria Brown, Henrico County Public Library; Yuni Chang, Henrico County Public Library; Alexis Webb, Portsmouth Public Library
The importance of tracking your accomplishments as they happen and assessing the difference between managers and leaders.

You can lead in every role and at all levels.

It's important in your career to develop an assignment plan to navigate your goals and be a self-directed learner.

Being that we wear so many hats and often take on multiple tasks we must be sure to document everything. We do so much that we forget how we contributed to something, this reminded me to keep better records of my achievements.

Questions pertaining to information literacy: is your teaching environment focused on your learners? What kind of data do you need to collect?

For example, first determining the need for a kind of program or training (e.g. staff narcan use training) before seeking collaborators/coordinators

An information literacy toolkit and survey would be helpful for developing more intentional public programming that is responsive to patron needs/feedback

Ideas from other library staff participants on how they've been responding to the biggest areas of opportunity at their libraries

Charging lockers

Developing a fair rubric to assess damage to returned books

Bringing local government to the library to meet patron interests

The step-by-step rubric for providing quality reference to patrons
I'm in the beginning of my library career. This information was useful because I was given tools that can help me to develop a more targeted career plan. I found it very informative, especially when discussing the definition of basic words and concepts. We can attend trainings, webinars, and conferences, and it is critical that we implement and assess what we've learned. I think that all too often the ball gets dropped when it comes to follow through. Keeping that in mind, writing this summary of my webinar experience has been a useful exercise in reviewing what was discussed during the webinar.
Here is a short list of my take-aways:
A competency is a "behavior that excellent performers exhibit consistently and effectively". This is important because behaviors can be observed, when someone is observed doing a certain task it is easy to identify if they are operating at the desired skill or knowledge level.

Ours is a profession of lifelong learning and it is my responsibility to take charge of my professional development.

It is critical that I identify the competencies that will allow me to grow, to do this, I need to take risks and assess my progress along the way. We were provided with several worksheets to assist in outlining my progress. It is my responsibility to gain the skills necessary to enhance my performance.

Set goals, assess, follow through and adjust behaviors and goals as needed.

It is important to develop community partnerships, it is equally important to make sure that these partners have the same goals and values as you and your library.

Are your programs effective? Are you meeting your goals and reaching your audience? It is important to organize and reflect on various forms of feedback to ensure the efficacy of programming and services.

It is essential that libraries promote and market their services effectively, so the public is aware of its value to the community. All the serves and programs in the world don't matter if no one knows about them.
During my time with the library, I have gotten very involved in programming and encouraging patrons to interact with the library, these tools will help me to gauge the efficacy of my programming so that I can adjust as needed. I will also use these tools to navigate and map the landscape of my career in librarianship.
Reference Interview 101
Cai Ritenour, Newport News Public Library; Beka Castagna, Chesterfield County Public Library; Michelle Ventura, Henrico County Public Library; Athena Williams, Alexandria Library
This course covered a variety of topics, including:
People don't usually want to ask for help so it's up to the librarians to be approachable

Ask open ended questions in responding to a patron's request to find out more details of what they really want. For example, if someone asks "where are the magazines?" don't just point to the area, but ask if they're just browsing or they are looking for a particular magazine.

How you appear at the information desk really matters in terms of approachability, e.g. if you're reading or on the phone people are less likely to approach you.

If you are asked a complex question don't be afraid to ask the patron to explain more about the subject.

Your interactions with the patron determine if that patron will want to come back to the library.

The history and function of Reference service.

The 2023 RUSA Behavorial Guidelines of Inclusion, Approachability, Engagement, Searching, Evaluation and Closing.

Approachability guidelines for Reference Staff, including welcoming patrons with eye contact, smiling, and freeing yourself of additional activities. And approachability in terms of appearance, expression, gender, and age.

How to communicate effectively during the Reference Interview through the 4 Rs (reassure, respond, reflect, and repeat).

Questioning and listening techniques, such as how to make best use of open and close ended questions, and to ask patron questions back to ensure you understand their request and that they've finished providing information for it.

Many patrons are nervous asking for help, so being approachable with your body language and facial expressions helps. Something as simple as standing is often more inviting to a patron. Eye contact and welcoming them to the desk area are also good first contact.
Some patrons don't come out right away asking what they are really looking for, often because they do not know how to phrase it. A well-directed reference interview will help lead the patron to explaining more clearly as to what really brough them into the library.
Open ended (broad) questions are a good starting point, but eventually in the interview close ended questions (mostly yes/no responses) are important to pinpoint the answer.
Take time to repeat what the patron is asking throughout the conversation; this will often help clarify if you misunderstood what they are looking for. It also gives them the opportunity to correct if the employee misheard something or was going in the wrong direction with the information.

The importance of follow up, even if you were unable to find an answer to the patron's question.

Lastly, we put the principles we learned into practice through a roleplay partner assignment where we switched between playing the role of a patron asking a reference question with incomplete information, or the library worker who needed to get to the root of the patron's true question in order to answer it.
Niche Academy Spotlight
Checkout these great self-paced training opportunities in the LVA Niche Academy.
NEA's placemaking grants program "supports activities that integrate arts, culture, and design into local efforts that strengthen communities over the long term. Projects are responsive to unique local conditions, authentically engage communities, center equity, advance artful lives, and lay the groundwork for long-term systems change. These projects have a required partnership component. Grants range from $25,000 to $150,000"
Deadline for applying is 8/3/23

Readers' Advisory Tips and Tricks
Books in the Media
Knowing what books are being talked about in the media can help you keep ahead of user interests and support both readers' advisory and collection building.
NoveList's Books in the Media tool let's you look for book mentions on radio and television as well as movie adaptations and celebrity book club choices. You can browse by media outlet or specific show to see what's recently being talked about or explore page-to-screen adaptations.
Explore all the tools and how to use them on the Books in the Media page in NoveList Plus, part of the Find It Virginia collections.
Plant Share and Propagation Library
The Hickory (NC) Public Library's Plant Share and Propagation Library is an area where patrons can donate loose cuttings and/or small potted plants to share. This area is the first part of thier makerspace that has a STEAM identity and embraces the heritage of Catawba County, one of artisans, craftsman, textiles, furniture and entrepreneurship.
Featured Virginia Programs
Business Brunch Expo
In honor of Black History Month and Women's History Month, we hosted a series of brunches where local black-owned and women-owned businesses were invited to give a brief introduction about their business and network with our patrons. Due to popular demand,
next year we will plan to have 1 brunch in a venue large enough to accommodate many vendors and patrons.
For more info, contact Sierra Sauls, sierra.sauls@norfolk.gov
Pulaski County Library System
Dublin Library Silent Lounge
For the past 5 years or so, we have met once a month to show a silent film at the Charles & Ona B. Free Memorial Library. We have a devoted group of folks and enjoy lively discussions both before and after most screenings! I have had several people tell me that it has opened their eyes to film history and appreciation. It has turned into a potluck of sorts, with participants bringing snacks and
baked goods to share. We provide a printout of fun facts regarding the movie we're watching. The whole evening becomes a fun time of fellowship and community around these silent gems!
For more info, contact Aaron Jarrells, ajarrells@pclibs.org
Recent articles on topics of interest to Adult Services