JANUARY 2023 Volume 4 Issue 1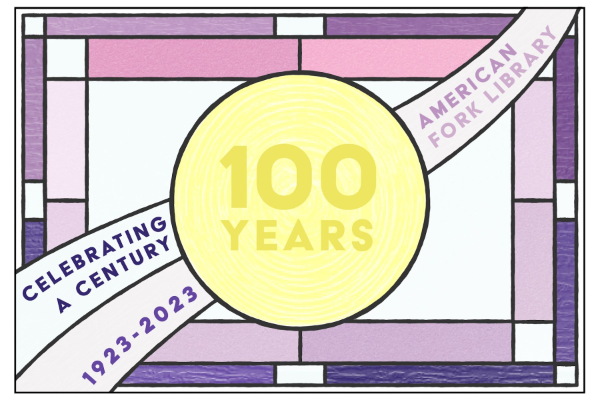 Celebrating a Century!
The American Fork Library is turning 100 Years Old! To read about some of the people who made the library possible, check out the Director's Message.

We are Celebrating a Century of library service throughout 2023. Join us for our first event January 23 from 6:00-8:00 pm. Here are some of the things you'll see:
American Fork Symphony ensemble

American Fork High School Jazz Band

Soiree a la 1923, including treats!

Book Bike, up close and personal

Storytimes with a special guest

Games and prizes

Hands-on "museum" and crafts

Fellow library users

Scavenger hunt
We are looking forward to sharing with you the American Fork Library of the past, present, and future!
EVENT HIGHLIGHTS
Storytime
Begins Tuesday, January 3rd
Tuesdays & Wednesdays
Preschool Pals: 9:30 am & 10:30 am
Toddler Tales: 10:00 am & 11:00 am

Bouncing Babies
Mondays 9:15 am & 10:00 am
Fridays 10:00 am

Bespoke Goal Setting for Teens
Wednesday, January 4 at 4:00 pm
Learn to set goals in a way that actually works for YOU! (Not just the way it's *supposed* to work)
For ages 12-18.
Organization Class
Thursday, January 19 at 7:00 pm
Got clutter? Tired of mess? Learn how to organize like a pro with professional organizer Vicki Winterton.
Español

¡Vea la nueva página en español en nuestro sitio web para obtener información sobre programas, eventos y recursos en español! Obtén más información aquí.
A FEW NEW READS IN OUR LIBRARY
Jasmine Warga
Built to explore Mars, Resilience, aka Res, learns new things from the NASA scientists and begins to develop human-like feelings, especially when he arrives on the planet, where he is tested in ways that go beyond space exploration.
Mariko Tamaki
An ABBA-loving singer/actor/writer of disco-operas, queer, Japanese American Anne starts a new school in middle-of-nowhere Greenville after a series of dramatic and unfortunate events and quickly finds herself wrapped up in a love triangle she never expected.
Michelle Segar
The Joy Choice offers a fresh, brain-based solution that turns the old behavior-change paradigm on its head. This groundbreaking book liberates you from the self-defeating obligations and rigid requirements of past diet and workout regimens and reveals what emerging research suggests really drives the consistent choices that power sustainable change. Designed from cutting-edge decision science and real-world experience coaching clients, you'll discover the easy, flexible, and three-step joy-infused decision tool that works with the chaos of daily life, guiding you to finally achieve and maintain your eating and exercise goals once and for all-and enjoy doing it!