JUNE 2022 Volume 3 Issue 6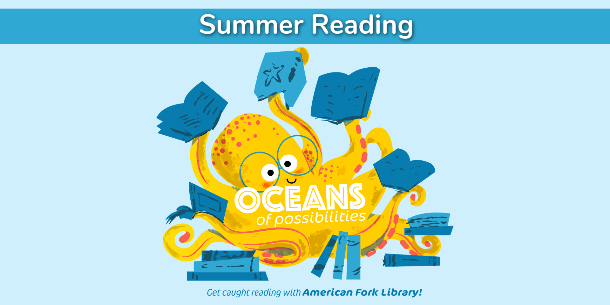 Did You Know?
Summer Reading is for Everyone!
Summer Reading 2022 is here! This year, we will explore Oceans of Possibilities through stories, activities, games and more! The program runs June 6-July 30. No registration required. Reading tracking sheets will be available at all library desks beginning June 6 for children, teens, & adults.

Check out our Summer Reading webpage and follow us on Facebook or Instagram for details. As a special bonus, you can enjoy our Oceans of Possibilities playlist on Amazon Music or Spotify! Post pictures of your summer reading adventures with #AFLibrarySummer!

Get Caught Reading with American Fork Library!
EVENT HIGHLIGHTS
Oceans of Fun Trivia Night
June 8 at 7:00 pm
How much do you know about the ocean? Celebrate Oceans of Possibilities with an Oceans of Fun Trivia Night. Test your knowledge of the ocean during this team-based evening of fun! For all ages.
Feature Fridays
Fridays at 11:00 am
Oceans of Possibilities movie screenings! Each week will feature a different children's ocean-themed movie.
Ride the Waves: Moods & Mindfulness for Teens
June 23 at 7:00 pm
Learn how to stop letting emotions knock you down! Meet upstairs in the Zone.
Español

¡Vea la nueva página en español en nuestro sitio web para obtener información sobre programas, eventos y recursos en español! Tendremos nuestra reunión mensual de Embajadores Latinos el 28 de Junio a las 18:15 Obtén más información aquí.
A FEW NEW READS IN OUR LIBRARY
The Last Mapmaker
by Christina Soontornvat

As assistant to Mangkon's most celebrated mapmaker, twelve-year-old Sai plays the part of a well-bred young lady with a glittering future. Sai seizes the chance to join an expedition to chart the southern seas, but she isn't the only one aboard with secrets. When Sai learns that the ship might be heading for the fabled Sunderlands—a land of dragons, dangers, and riches beyond imagining—she must weigh the cost of her dreams.
Scales & Scoundrels Book 1: Where Dragons Wander
by Sebastian Girner

This gorgeous, multicultural fantasy adventure follows treasure hunter, Luvander, as she searches for gold and glory. As she dives into an epic journey along with a young prince, his stern bodyguard, and a plucky young dwarf, our heroes will discover a secret that will bring light to a world encroached upon by an ancient darkness.
The Diamond Eye
by Kate Quinn

Known as Lady Death—a lethal hunter of Nazis—Mila Pavlichenko, sent to America on a goodwill tour, forms an unexpected friendship with First Lady Eleanor Roosevelt and a connection with a silent fellow sniper, offering her a chance at happiness until her past returns with a vengeance. Based on a true story.
Ann Williams
Works as a clerk at the children's, circulation, and reference desks

Has worked at the American Fork Library for 18 months

Favorite food is pizza

Favorite genre to read is historical fiction

Recommends Salt to the Sea by Ruta Sepetys

"As a mother, I always appreciated all the resources that the library made available to my children and I. Not only the books and movies, but programs, support, education, fun, volunteer opportunities, and friends.