June Events
For teens going into grades 6 - 12
Summer Hangout June Schedule:

6/15- Taste Test Challenge
6/22- Back to Kindergarten
6/29- Hydro Dip Mugs
Summer Reading Program
Written by Kira and Eva V. (T.A.B. Members)
This summer teens can sign up for the summer reading program for a chance to win some fun prizes! Here's how!
Download the Beanstack app on your phone or mobile device

Create an account following the instructions on the app. (Age, name, grade you're entering, etc.) I suggest turning on the book recommendations if you need some ideas for books to read.

Sign up for the summer reading program under "Challenges"! Be sure to sign up for the TEEN program, not the adult program.

Track your reading and participate in different challenges starting June 1st to earn cool badges and "tickets". (Challenges may include doing simple chores. Your parents will thank you.)

"Tickets" can be put into the drawing for different prizes. Prizes can include gift cards for local McFarland restaurants (e.g. Culvers, McFarland House Cafe), free books, posters and more! There's no guarantee that you will win prizes. People are chosen at random at the end of the summer!

If you have any other questions be sure to ask any of the helpful library staff! They'll love to help you!
The Sun and The Star by Rick Riordan and Mark Oshiro
Review written by Dylan V. (T.A.B. member)

Nico di Angelo's life is almost perfect. He has supportive friends, a father who is also the god of the underworld, and an adorable boyfriend, Will Solace, who's the son of Apollo (I guess it's true, Opposites really do attract). Oh yeah, and the skeletons. Raising an army of skeletons on command is pretty cool, too. But… the dreams… they just never shut up. I mean, it makes sense, seeing as Nico is the son of Hades. But his most recent dream is… troubling. An old friend is calling for help from the depths of Tartarus, and Nico, along with Will, must venture to his 2nd home, The Underworld, and rescue Bob the Titan.
In this exhilarating story from the universe of Percy Jackson, everyone's favorite gloomy gay demigod finally gets the spotlight. It will take all of Nico's knowledge and Will's skills and wit (ok, mostly the skills, but the wit is good for morale) to survive a journey to the darkest part of the underworld and back. And Nico must be prepared to "give something of equal value" if he is to save Bob. The question is… just how much is he willing to sacrifice? Wanna find out? Then get the book. Seriously, it's that easy.
Abby's Bookshelf
Book recommendations from our Teen Librarian
Throwback
Maureen Goo
Chaos Theory
Nic Stone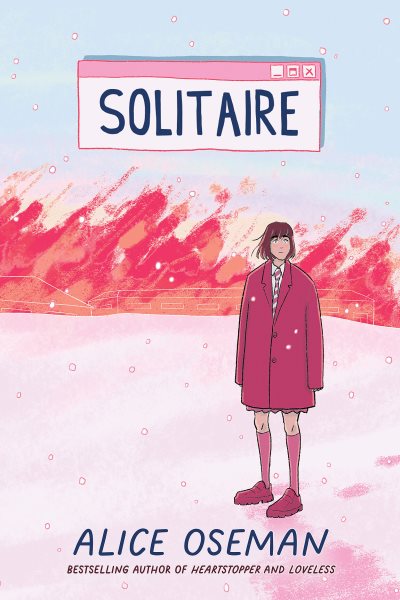 Solitaire

Alice Oseman
Starfish
Lisa Fipps
Sounds like a lot of HOOPLA!
Review written by Kira V. (T.A.B. Member)
Hey you, yes you! Are you searching for a free app for audiobooks? I have the perfect app for you! Hoopla is a free audiobook app you can download to your mobile device! All you need is a library card to enter when you register for an account! The best part- all the audiobooks, ebooks, music, and movies have little to know wait times so you don't need to worry about waiting weeks for your borrows.
You can borrow audiobooks and ebooks for a maximum of 3 weeks and they can be downloaded to your device for offline listening, which is perfect for summer road trips! And if you forget to return your borrowed content, no need to worry! It will automatically return for you on the return date! If you didn't finish your listening or reading, you can simply borrow it again! I love using this app and it's perfect for summer reading and listening!
Access Hoopla at this link: https://www.hoopladigital.com/
~Summer Library Activities~
Written by Kira V. and Eva V. (T.A.B. Members)
Are you a teen in middle or high school looking for a fun, chill way to spend your summer afternoons? Then you should come visit the library for some fun activities for teens in middle and high school! Bring a friend or two for any of these events curated by our own teen librarian Abby! We always love meeting newcomers and are a friendly (sometimes chaotic) group! Below is a list of some examples of what we do!
(Note: *Some of these take place during the school year only. Ask Abby or any of the friendly librarian staff for a summer schedule! They'll be happy to give you one!)
Snack and Chat:
Food

Friends

Fun!

Activities/games
Teen Summer Hangout:
*TAB(Teen Advisory Board) (school year only):
*Teen After Hours (school year only):
After library is closed

Planned(YOU can help)

Games

Movies

Crafts
See the list at the top of this newsletter for even more events!
This is the last newsletter for awhile. We take a break during the summer but we'll see you again in the Fall!