January Events
For teens in grades 6 - 12
January event:
Mario Kart Tournament

Friday, January 27th at 5:15pm - 6:30pm.
Abby's Bookshelf
Book recommendations from our Teen Librarian
I Was Born for This
Alice Oseman
Huda F Are You?
Huda Fahmy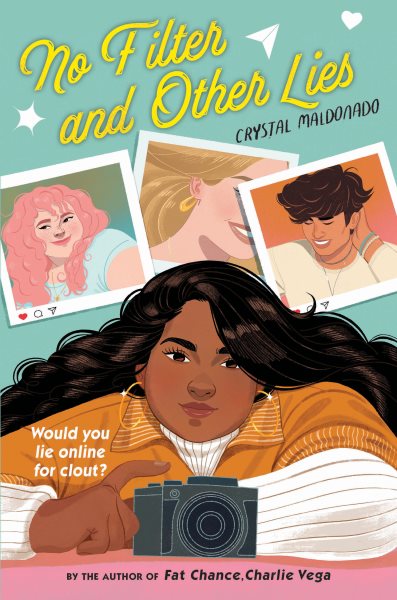 No Filter and Other Lies
Crystal Maldonado
The Honeys
Ryan La Sala
Heartstopper by Alice Oseman
Review written by Eva V. (T.A.B. member)

What do you get when a "Gay Nerd" falls for a "Rugby Lad"? A heck of a ride, that's what.
Charlie Spring is a year 10 boy just trying to get through the school year. But when he meets Nick Nelson, one of the rugby players, things get a little…different. Charlie falls for a seemingly straight boy. He is also cutting off one very toxic relationship. While Charlie deals with that, Nick starts to fall for Charlie. But he's straight, right? How could that happen? Charlie and Nick try to deal with these struggles on their own but soon, can't deny the love in the air. Read Heartstoppers by Alice Oseman to find out what happens next. And watch the show based off the books on Netflix. Enjoy!!

| | |
| --- | --- |
| "Turning Red" | |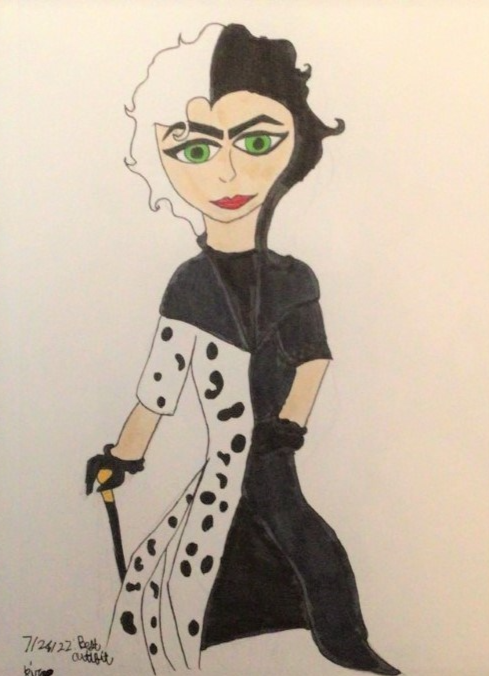 "Cruella"

By Kira V. (T.A.B. Member)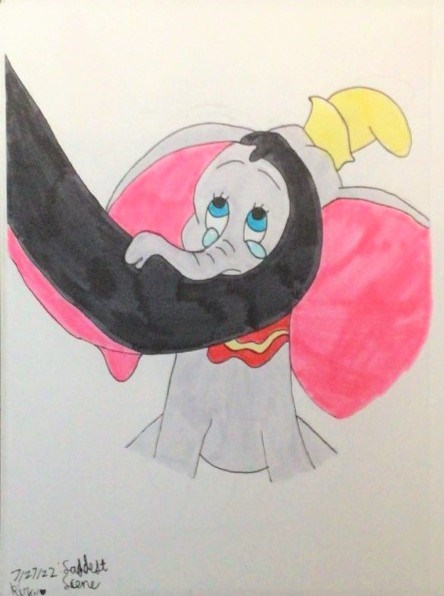 "Dumbo"
Fanfiction by Eva V. (T.A.B. Member)
*I take no credit for the characters. They all belong to Alice Oseman [from the Heartstopper series]. Also, this fanfic does have some body shaming and an eating disorder (will be marked in between ###) in it. If you are uncomfortable with that, please don't read it. I don't believe anything I wrote. All bodies are amazing.*

Sleepy Charlie
"Char~! Time to get up!" Nick Nelson said. Charlie Spring grumbled and burrowed further under the blankets.
"Char-char, c'mon." Nick pulled the blankets off of his boyfriend.
"No~!" Charlie whined.
"I will call Tao." Nick threatened. Charlie huffed but sat up.
"Fine…" Charlie grumbled.
"Good, let's get to school," Nick said.

💗💗💗💗💗💗

At school…
Charlie struggled to stay awake for the whole day. When he got to his first class with Nick he was almost falling asleep.
"Char, what's wrong? Why are you so tired?" Nick asked.
" M' fine," Charlie said, stifling a yawn. Nick frowned but dropped the topic. At least until…
"Charlie, wake up!" Nick whisper-screamed, poking the curly-haired boy with his pencil. Charlie shot awake, falling off his seat. There was a smattering of snickers. Nick pulled Charlie back to his seat.
"What's wrong?" Nick whispered.
"Nothing! Everything's fine." Charlie said.
"Char~!" Nick said.
"I'm…fine…" Charlie whispered. Nick sighed.
"We're talking more at lunch," Nick said.
"Nick I'm fine." Charlie tried. Nick didn't answer.

💗💗💗💗💗💗

Lunch break…
###
"What's wrong?"Nick asked Charlie as soon as he sat down.
"Nothing!" Charlie lied. Then Tao plopped down on Charlie's other side. Charlie rolled his eyes.
"Char-Char…" Nick said.
"Have you eaten today?" Tao asked. Charlie didn't answer.
"Charlie! You said you had!" Nick said.
"I…I just can't." Charlie whispered.
"What happened?" Tao asked. Charlie looked away.
"Char, we wanna help," Nick said.
"B-Ben…" Charlie said.
"What did he do!?" Nick and Tao exclaimed.
"Hey, Pretty boy!" A voice called. Tao locked his jaw. Charlie winced, trying to hide behind Nick. Nick hugged him.
"What. Do. You. Want." Tao growled.
"Can't I just say hi?" Ben smirked.
"Shove off." Nick snapped.
"Aww, don't be rude Nicky," Ben said.
"Go away. And stay away from Charlie." Tao hissed.
"Why? I'm just trying to help." Ben laughed. "After all, he is fat," Ben said. Nick snapped. He punched Ben hard.
"Don't call him fat!" He yelled. Mr. Akinade quickly stepped in between the two boys.
"Nick, enough. Ben Hope, you are coming with me." He said. Ben grumbled, his eye already bruising.
###

"Nick, why did you do that? He could have punched back!" Charlie exclaimed.
"How long has he been talking to you?" Nick asked.
"Don't change the subject!" Charlie cried.
"Then answer!" Nick said.
"I asked you a question first!" Charlie snapped.
"Both of you stop!" Tao shoved himself in between the two. "Nick, you shouldn't have punched him. Charlie, you should have told us about Ben. Can we agree on that?" Tao said. Nick and Charlie glanced at each other.
"Fine…" Charlie grumbled. Nick nodded.
"Good. Now, we need to eat lunch." Tao said.
"I'm not-" Charlie started.
"All of us," Tao said. Charlie glared at him. Tao leveled Charlie with a stare. Charlie looked away, giving in.
"Come on." Tao led the two to lunch. Nick brushed his hand up against Charlie's. Charlie grabbed his hand. Charlie did eat that day.

💗💗💗💗💗💗

Kira V. (T.A.B. member) breaks down her top 5 favorite songs of the moment.
#1- "We Don't Talk About Bruno" (Image from Walt Disney Pictures)
From the sound recording of Encanto

This catchy song from the Disney film Encanto features the Madrigal family singing about some scary things Mirabel's Tio Bruno is said to have done. The things the family sings about are what they believe led poor Bruno to leave the family and live as an outcast.
#2- "What Else Can I Do"
From the sound recording of Encanto

In this song from Encanto Mirabel believes the way to save her beloved home from falling apart is to put aside her differences with her older sister Isabella. Instead of fixing past issues, the two sisters argue until Isabella creates an entirely new plant than her normal flowers. This leads up to the song about the two girls helping each other in many ways.
#3- "Don't Lose Ur Head"
From Six: The Musical

This song is one of my go-to karaoke songs! Queen Anne Boleyn sings about her troubles with her former husband Henry VIII and how he wasn't at all faithful to her. So what does Anne do? She gets her revenge by doing exactly what Henry did. If he didn't care about her and saw other women, than she should get to see other men. The only problem was that this lead to her getting beheaded because cheating on a king back then was very illegal.
#4- "Get Down"
From Six: The Musical

Another great song from Six, this time taking on a more hip-hop vibe with Anne of Cleves. Anne was divorced from King Henry which she should have been depressed about. But it did help that he sent her to live in her own palace with plenty of money. In fact, the entire song is about Anne not caring at all about losing Henry and just living a good life as "queen of the castle." She even goes as far as calling her ex a "dirty rascal" several times.
#5- "Satisfied"
From Hamilton

The final song on my top 5 list is from my favorite musical of all time. In this song, Angelica sings about her bittersweet feelings about Eliza marrying Alexander. She's happy her younger sister found someone she loves so much, but she is also sad because it means she won't be able to have Alex as more than a friend or brother. Angelica was brave because she sacrificed her own feelings so her sister could be happy.
Quiz written by Dylan V. (T.A.B. member)

You check the cameras. When you get to Pirate's Cove… Foxy's gone!? Then, you hear thundering footsteps coming down the hall! Quick, what do you do to fend off Foxy??
A) Close the door before he gets to you
B) Panic
C) Give foxy a hug

You turn the light on in the east hall, and standing there is… Bonnie!?!? Hurry, find a way to get him to leave before he gets to you!
A) Close the door, opening it only briefly for a few seconds to check that he's gone
B) Pray that he'll ignore you
C) Give him a new guitar

You check the cameras again… and a strange animatronic suit appears… and moves on its own!? It's Golden Freddy… what do you do!?
A) Close the monitor and do not look at it until he leaves
B) Go and put on the suit
C) Dance with him

You open the door to the west hall… aw crap, it's Chica!! Hurry, find a way to get her away!!
A) Close the door, opening it only briefly for a few seconds to check that she's gone
B) Give her a nice big smooch on her beak!
C) Eat her pizza

You're just doing your job… when the power goes out!! Then, from the east hall, you see… the glowing eyes of Freddy Fazbear himself, while his infamous music box plays… there's not much you can do, but what will you do??
A) Hope and pray that the time turns to 6 A.M before he kills you
B) Panic
C) Accept your fate…


Results:
If you chose mostly A's: you've got pretty good odds of surviving!
If you chose mostly B's or C's: … sorry pal, you're screwed. But look on the bright side, The pain won't last very long and you'll be dead before you know it!

Ya know, maybe you should just find a different job…