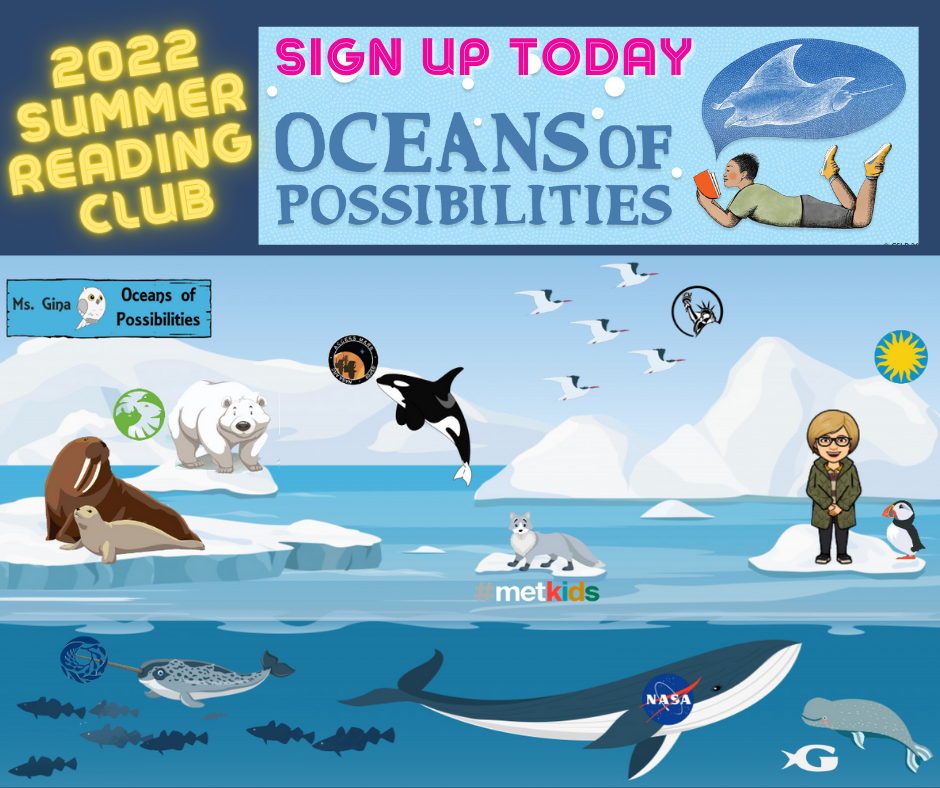 The East Islip Public Library's Summer Reading Program for children is ongoing. Children reading on their own can join the Independent Readers Club, while those who are being read to can join our Read-to-Me Club. These clubs are for children up through seventh grade. Once you've registered, you can start to report on the books that you've read to win cool prizes.
Click here for more info and below to register online.
Available Children's Programs

| 7/24

-8/6
Amazing Octopus Story Craft
Thursday, July 28 at 10 AM
Grades K-3, on their own
Join us as we learn about these amazing creatures. You'll even get to create your own octopus craft.
Virtual Harry Potter Birthday Cake Bake
Saturday, July 30
All Ages with an Adult
Follow along here to create your very own Harry Potter-inspired birthday cake just in time for his birthday! There will be no take and make kits for this virtual program.
Saturday, July 30 at 10:30 AM
All Ages with an Adult
Head to the Discovery Backyard to do a fun nature craft. We'll provide the supplies and you provide the inspiration. This program is weather permitting.
Happy Birthday, Harry Potter!
Monday, August 1 at 7 PM
Grades 3 and up
Would you prefer a Nimbus 2000 or a Firebolt? Come craft your broom of choice and celebrate Harry Potter's Birthday with friends and fellow fans!
Take and Make

Grades 3 and up
Oceans of Possibilities Splatter Art
Tuesday, August 3 at 4 PM
Grades 3-6
Have fun creating ocean-themed splatter art on canvas. Select from sea turtles, fish, seahorses and more. Add a splatter effect to create a perfect piece of unique art! Dress for a mess!
Take and Make
Grades 3-6
BenAnna Band Performance in the
Discovery Backyard
Wednesday, August 3 at 10 AM
Families with children of all ages with an adult
Join the BenAnna band for a special show right from our Discovery Backyard! Please bring chairs and/or blankets to view this from our back parking lot. In case of inclement weather, the show may be held in the library's North and South Meeting Rooms.
Friday, August 5 at 10:30 AM
Ages 2 and up with an Adult
A new story walk is debuting in the Discovery Backyard. Join us for a Ducky story and then we'll qwaft a quacky qwaft! Note: Weather permitting, the Story Walk will be on display. It will always be available during regular open Discovery Backyard hours.
1000 Books Before Kindergarten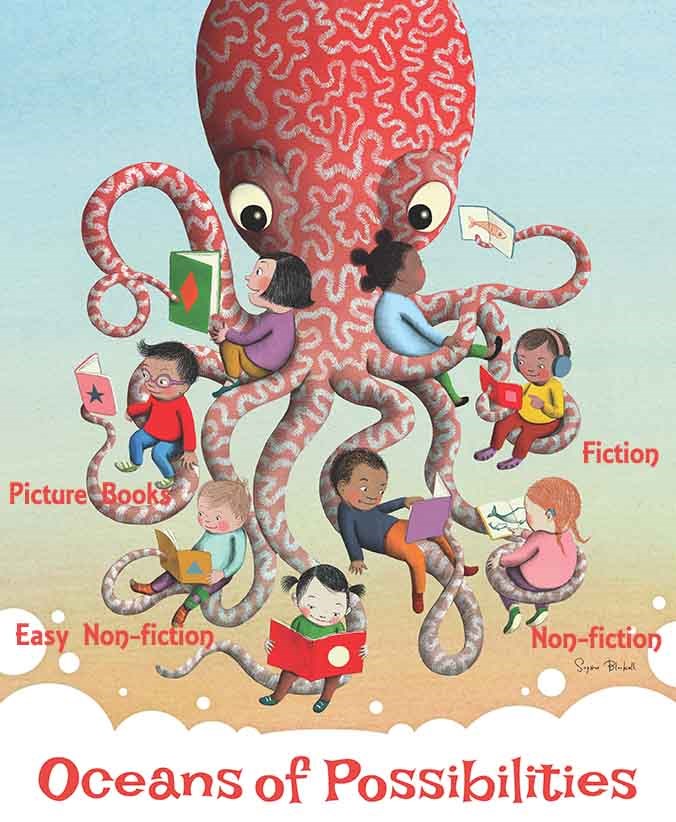 Summer Reading Club
Recommended Reads
Misunderstood Shark
by Ame Dyckman

Shark interrupts the filming of Underwater World With Bob, scattering the other creatures (and the audience), but he claims it is all a terrible misunderstanding -- that he would never think of eating the fish, the squid, the audience...or Bob.
Swimming with Sharks: The Daring Discoveries of Eugenie Clark
by Heather Lang

Before Eugenie Clark's groundbreaking research, most people thought sharks were vicious, blood-thirsty killers. From the first time she saw a shark in an aquarium, Japanese-American Eugenie was enthralled. Instead of frightening and ferocious eating machines, she saw sleek, graceful fish gliding through the water. After she became a scientist—an unexpected career path for a woman in the 1940s—she began taking research dives and training sharks, earning her the nickname "The Shark Lady."
The Ocean Disaster
by Matthew McElligott

The students of Dr. Cosmic's class embark in their teacher's squid-shaped sub for an exploration of the deep sea, where a professional oceanographer and their trusty science handbooks help them identify the ocean's smallest producers and consumers.
Smart About Sharks
by Owen Davey

It's time to learn about the sea's most feared (and most misunderstood) residents: sharks!
And be sure to check out our website for access to free virtual books, updated resources for remote education, and fun ideas to keep your family engaged.