EIPL News - January 9, 2022
Mask Requirement
As per New York State order, masks must be worn by all visitors (ages 2+) while in the library, regardless of vaccination status. Thank you for helping keep the community safe!
Library of Things Online Catalog
Browse through the items in our Library of Things on our website. In addition to the different categories of things and loan rules, you can also check the availability of lawn games and library equipment. When you have figured out what item you would like and when, give the Reference Desk a call at 631-581-9200 x5 to make a reservation.
For more information visit:
Adult & Young Adult programs for the week of January 9, 2022:
Registration for all Adult and Young Adult programs is ongoing.
Programs with a fee are non-refundable and must be registered in-person.
New Year, new hobby! Pick up a blank journal, pack of pens, and list of prompts to complete each week throughout the New Year! Journal kits will be available starting Monday, January 3 while supplies last. For East Islip Public Library cardholders only.
Pick up begins Monday, January 10, completed packets must be handed in by Monday, January 31 to receive credit
Reflect on aspects of your digital life by learning all about digital privacy, digital security, digital wellbeing, misinformation, and ways to take control of your technology. By completing this packet, you can earn three (3) hours of community service. For East Islip Public Library
Tuesdays & Thursdays, 10:30 a.m. - 2:30 p.m.
We provide the room, you provide the game: canasta, mah jongg, bridge, scrabble or any game you love to play!
Second day of the week added!
Tuesday, January 11, 5-6:30 p.m.
Join Joanne as she teaches participants the basics of starting and creating a fair isle hat. Then, join the Knitting & Crocheting Group on Saturdays from 2 - 4 p.m. to seek additional help or finish your creations. To make this project, please bring: 5 or 8 mm needle, double point needle, 4 medium eight yarn and a small amount of Aran yarn.
Stop by the library to join others that share your passion while you work on your current sewing project. Please bring your own supplies. Instructors may be available. Registration is not required.
The Road to the Oscars
12 Angry Men
Wednesday, January 12, 2:15 p.m.
An impoverished youth is on trial for his father's murder and eleven of the twelve jurors have voted him guilty.
Rated: PG; 95 min.; 1957.
Starring: Martin Balsam & John Fiedler
Wednesday, January 12, 6:30-8:30 p.m., Zoom
Join Mike Ivankovich for this unique experience. He will begin with a 20-minute discussion on "10 Factors That Will Always Impact the Value of Your Treasures" followed by the appraisal portion of the program. The order of appraisals will be at the moderator's discretion and the number of attendees. This is a collaborative program with the Islip Library. We hope to get at least one appraisal for each attendee, however, it is not guaranteed. Register for this program to receive the Zoom link via email.
Wednesday, January 12, 7-8 p.m., In-person
Chronic inflammation is the root cause of many illnesses. Diet and lifestyle choices play a big role in reducing disease. Learn the best strategies for containing and reducing long-term health risks.
Friday, January 14, 2:00 p.m.
Follows Aretha Franklin's journey in becoming a superstar and Queen of Soul.
Rated PG-13; 145 min,; 2021
Starring: Jennifer Hudson
East Islip Historical Society Calendar Sale
Saturdays through mid-January
The East Islip Historical Society will be selling their 2022 calendars in the lobby on Saturdays from November 20 into mid-January. Be sure to pick one up for the local history fans among your friends and family!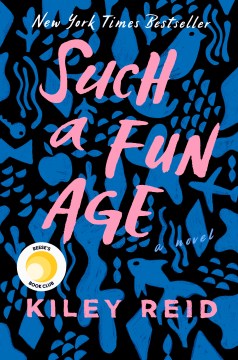 PLEASE NOTE NEW DAY AND TIME
Such a Fun Age by Kiley Reid
Seeking justice for a young black babysitter who was wrongly accused of kidnapping by a racist security guard, a successful blogger finds her efforts complicated by a video that reveals unexpected connections.
Career Counseling
East Islip Library cardholders can schedule a consultation with the library's professional Career Counselor. Get help with career changes, resumes, cover letters, and your job search. To request an appointment, send an email to help@eipl.org, including your name, telephone number and the email address at which you want to be contacted; the Career Counselor will contact you to set up a virtual or in-person appointment at your convenience.
JobNow
provides
various tools to help with every step of the job search including live resume assistance, career planning, live career coaching, live interview preparation, and free live workshops.
VetNow
supports veterans and their families with navigating the VA bureaucracy, providing academic tutoring, and assisting with employment transition.
To access JobNow and/or VetNow services:
Visit livebrary.com and click on Jobs & Careers

Select Jobs & Careers once more and then choose from JobNow or VetNow

Sign in with your library card
Live online help for both JobNow and HelpNow is available every day
Remote Printing
at
East Islip Public Library
You can use your personal computer (laptop or desktop), tablet and smartphone to print to the library's printer from anywhere. Visit www.eipl.org/print for instructions on how to upload or email your documents. Once received, we will hold on to the print job for 72 hours for you to come in at your convenience.
Town of Islip 2022 Recycling Calendar
Didn't receive or misplaced your copy?
Here to talk | Here to listen | Here to support
Project Hope is New York's COVID-19 Emotional Support Helpline.
NY Project Hope Crisis Counselors understand what you are going through. Talking with a crisis counselor is always free, confidential, and anonymous, allowing you to talk freely about the issues that are affecting you. They will help you navigate these unusual times and take some of the burden off of your shoulders.
Project Hope Crisis Counselors will help you with anything from economic hardships to behavioral health issues. They understand there are a whole range of emotions you might be feeling and they will work through it with you. A Crisis Counselor will give you self-help tips and come up with a plan for you to be your own advocate. They have a multitude of resources available to you and would love to be the shoulder you lean on. After all, New Yorkers are in this together.
Emotional Support Helpline: 1-855-818-4673
projecthope@nhcc.us
Free | Anonymous | Confidential
Follow us on Social Media!