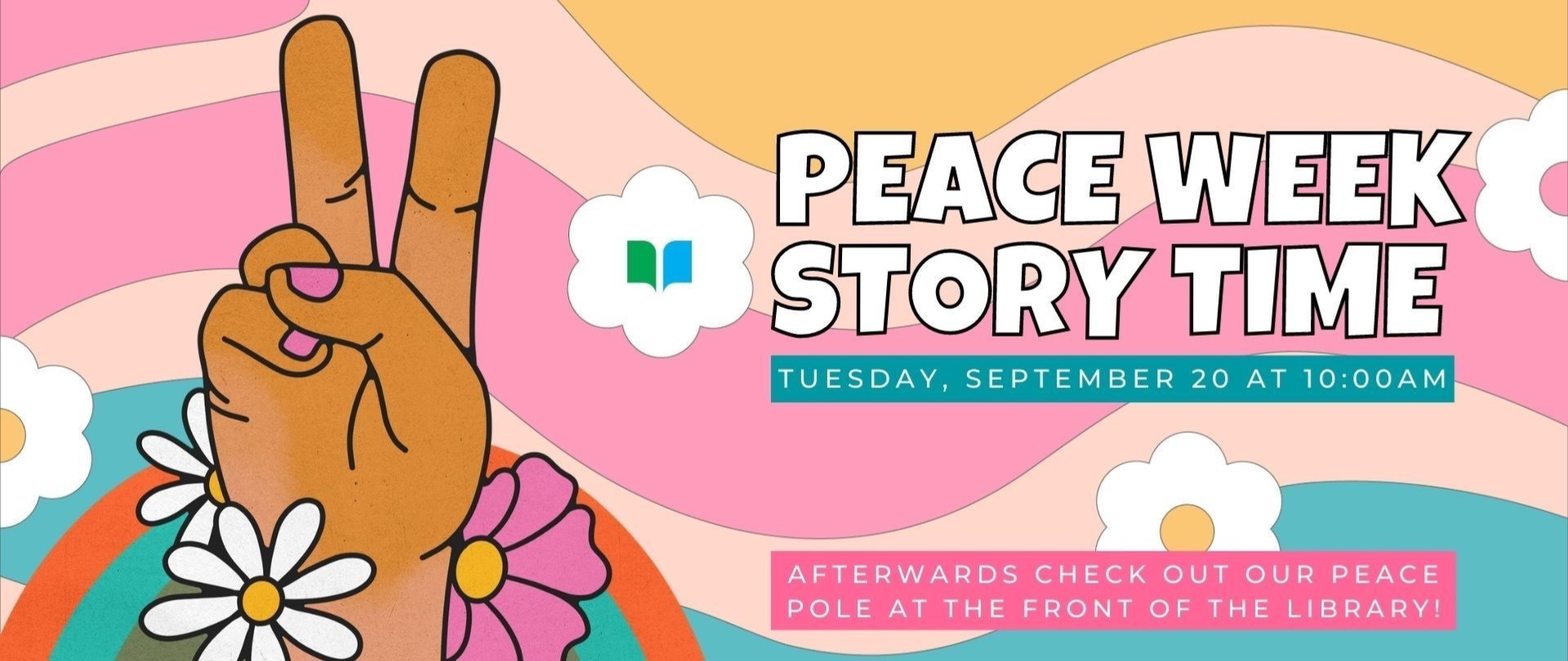 Tuesday, September 20 at 10:00AM
Join us for a special peace week story time. Stories, movement, music, and peace. Recommended for ages 1.5-5 years old. No registration is required for this event.
Check out our Peace Pole
After story time, take a stroll toward the front of the library and check out our peace pole. Then, on September 22 at 4PM, come celebrate the goal of world peace as the Rotary Club of the Bridgewaters gifts the Town of Bridgewater a Peace Pole. The dedication will take place on the front steps of Bridgewater Public Library.
Tuesday, September 20 at 7PM

Join our monthly book club for a discussion of The Water Dancer by Ta-Nehisi Coates.

New members always welcomed!

Copies of the book are available for pick up at the front desk or you can place a hold by clicking below.
McElwain School
Time Capsule Opening & Class Reunion
Saturday, September 17 12:00PM to 2:00PM
Were you or someone you know a student in the final classes at McElwain Elementary School that participated in the time capsule project? Join fellow alumnae at Bridgewater Public Library for a reunion. View the items that your childhood selves found important enough to send into the future and maybe claim your treasures back!
Join Our Teen Anime Club!
First Meeting: Wednesday, October 19 at 4:00PM
Anime Club: a place where you can watch anime on Crunchy roll, hang with friends, and suggest books for the library to purchase. Don't miss out!
Can't wait to get your anime fix? Check out these titles!
When you place a DVD on hold it gets shipped to the Bridgewater Public Library free of charge. You will then be notified when it is available for pickup!
Creativebug
Thousands of Online Art & Craft Classes
Pamper Yourself With Classes Designed To Make You Feel Good
Bridgewater Public Library cardholders have access to Creativebug, an online resource perfect for the creatively inclined. Easy-to-follow tutorials for this month include: homemade candles, herbal tinctures, bath scrubs, and custom tea blends.
Make to Give: Charitable Crafting
Pass along the good vibes by learning how to create something worth sharing.
School Bell
A Temporary Exhibit of Political Cartoonist Herb Block
Check it out until
Monday, September 19
A temporary exhibit of former Washington Post political cartoonist Herb Block entitled "The School Bell" will be on display at the Bridgewater Public Library. This exhibit is a great supportive learning tool as Herblock "believed that a strong education is what gives people the opportunity to reach their highest potential, to become respectable leaders and to live as productive members of society."
September 15 through October 15
This month we recognize the contributions of Hispanic Americans to the history, culture, and achievements of the United States. Celebrate with these titles!
When you place a book on hold it gets shipped to the Bridgewater Public Library free of charge. You will then be notified when it is available for pickup!
Explore our town! Learn about the architecture and history of the buildings and landmarks in and around Central Square. Audio is available for the entire tour or you can read along.

This tour was created by one of our librarians. Visit our information desk or historical room to learn more about our town's rich history.
Bridgewater Public Library's
Board of Trustees
The Board of Library Trustees is a group of nine Bridgewater citizens who are elected individually in the annual town election for three-year terms. The Board volunteers to provide oversight and advisement to the Bridgewater Public Library and Library Director in the pursuit of their mission to educate, inform, enrich, and inspire.
Trustee Tidbits
Curious about these individuals? Check out their community impact & bios on our website!
Cars & Coffee
Thank You To All Who Attended!
Bridgewater Public Library
15 South Street
Bridgewater, MA 02324
508-697-3331