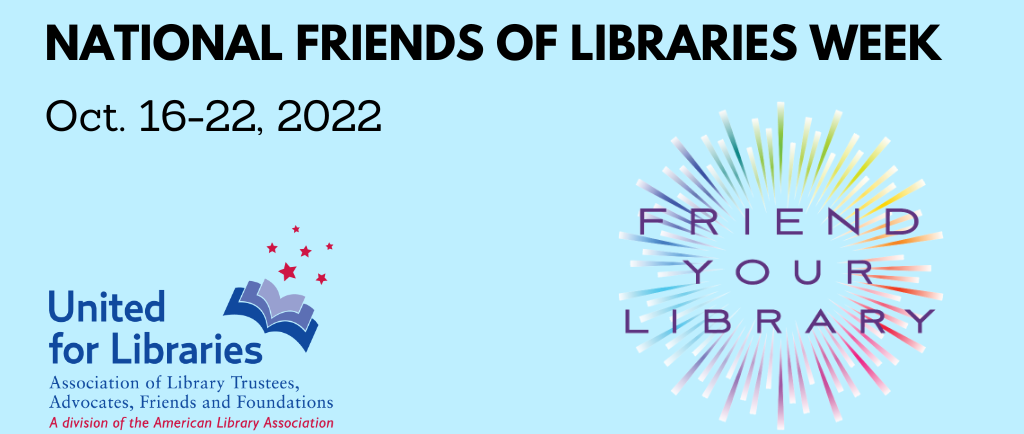 October 16-22 is National Friends of Libraries Week.

We hope you take this opportunity to support Friends of Washoe County Library. Established in 1980, this all-volunteer organization raises funds for the library system through membership dues, donations, and periodic book sales.

Become a member or donate online now, or shop the Friends' Amazon store. You also have a few more days to attend this month's book sale, held in the Reno Town Mall, next-door to the Sierra View Library.

National Friends of Libraries Week is coordinated by United for Libraries, a division of the American Library Association, which supports those who govern, promote, advocate, and fundraise for libraries.
Pioneer Center Youth Program
Collateral & Co.
Saturday, October 15, 2-3 pm
Sparks Library


Collateral & Co. contemporary dance company explores the intricacies of the human experience and nuances of everyday life through written word, physical and emotional experiences, and bodily expression.


Teen Zone
VR Studio
Wednesday, October 19, 2-3 pm
Sparks Library


Drop by the Sparks Teen Zone after school every Wednesday for activities and conversation. This week: VR Studio. Go on a virtual reality adventure.



High Noon with Neal Cobb
Promoting the Significance of North Central Nevada History
Thursday, October 20, noon-1 pm
Online event


Dana Toth, Executive Director of Humboldt Museum in Winnemucca, Nevada, will discuss history, community, and the efforts to unite the two. A presentation of the Nevada Historical Society.


TeenTober Friday Night Frights
Franken Puppets
Friday, October 21, 3:30-5:30 pm
North Valleys Library



Spend your freakishly frightful October Fridays at North Valleys TeenTober Friday Night Frights creating creepy Halloween decorations while watching classic horror movies.



FOR MAKERS
Learn & Make in the Quad
Wednesday, October 19, 3-6 pm
Downtown Reno Library


This week we will be working with the sublimation printer and heat press. We'll provide you with a coffee mug, coaster, or metal bookmark (limit one item per person), and you can transfer a vivid, full-color design or photograph onto it. Bring an image file (.png or .jpg) on a flash drive or your phone, and leave with a vibrant, one-of-a-kind item. Sign up for an individual, 30-minute session.


WHAT TO READ NEXT
For Fans of Colleen Hoover
NEWS & ANNOUNCEMENTS
Sierra View Library Closed for Renovations
Washoe County Library System is making planned renovations to the Sierra View Library. The branch is currently closed, with an anticipated reopening in February 2023.


Technology Survey for Older Adults
Older adults! We need your feedback on technology, so we can learn how to better serve you. Please take our brief survey and share it with someone you know.


This October, Washoe County Library System is excited to participate in the Young Adult Library Services Association's annual TeenTober celebration! This event highlights the importance of library services geared toward teens. Visit our calendar of events to see all the events we have planned.
FRIENDS OF WASHOE COUNTY LIBRARY
Friends of Washoe County Library is a member-supported 501(c)(3) Nevada non-profit organization dedicated to advocating, fundraising, and providing support for the Washoe County Library System.

To join, to donate, or for more information, please visit www.washoelibraryfriends.org or call 775-324-5522.

The Friends of Washoe County Library will not be accepting donations during the Sierra View renovation closure.
| | |
| --- | --- |
| Washoe County Library System | |
301 S. Center St. Reno, NV 89501