Quitter: A Memoir of Drinking, Relapse, and Recovery
by

Erica C. Barnett
What it is:

journalist Erica C. Barnett's memoir of her hard-fought battles with alcohol addiction.



Read it for:

the author's clear-eyed and self-deprecating journey toward redemption: "Rock bottom is a lie."

For fans of: candid recovery memoirs like Cat Marnell's

How to Murder Your Life

.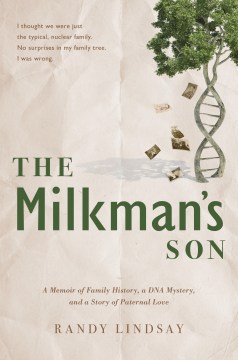 The milkman's son : a memoir of family history, a DNA mystery, a story of paternal love
by

Randy Lindsay
Raised in a family he bore little resemblance to, Randy was jokingly referred to as "the milkman's son." This warm and candid memoir chronicles the unraveling of a family secret, which begins with Randy's dad having dreams about deceased relatives urging him to complete their family tree.

Randy agrees to help with the genealogy, but after his searching leads to a dead end, he takes a commercially available DNA test. The results reveal a possible genetic match to a sister, which begins a familial quest that forever changes the author's life.
Featuring a cast of vivid characters, richly drawn from two distinct families,
The Milkman's Son
reveals one man's family tree, pulling back layers of new information as he gets closer to the truth--a biological father, siblings, and family members he never knew about.
This is a story of accepting, forgiving, reuniting, and, most importantly, it's about the bonds that connect us and the unconditional love that makes us feel like we belong.
Officer Clemmons
by

Dr. François S. Clemmons
What it is:

a heartwarming memoir from

Mister Rogers' Neighborhood

cast member François S. Clemmons, who famously broke down racial barriers by sharing a foot bath with Rogers in a 1969 episode.



Topics include:

Clemmons' Grammy Award-winning music career, which began at Oberlin College in the 1960s; his life-affirming 30-year friendship with Rogers, which was tested when the latter advised the openly gay Clemmons to repress his sexuality to avoid scandal.



Did you know?

Clemmons was

the first African American performer to have a recurring role on a children's TV program.
Of Bears and Ballots: An Alaskan Adventure in Small-Town Politics
by

Heather Lende
Welcome to...

Haines, the small but politically active town in southern Alaska where author Heather Lende was elected to assembly in 2016.

Is it for you?

This

homespun tale of small-town politics and colorful personalities will charm fans of TV's

Parks and Recreation

.



Author alert:

Lende has written several memoirs of her life in Haines, including

If You Lived Here, I'd Know Your Name

and

Take Good Care of the Garden and the Dogs

.
Memorial Drive: A Daughter's Memoir
by

Natasha Trethewey
What it's about:

When she was 19 years old, Natasha Trethewey's former stepfather murdered her mother.



How she coped:

Years later, Trethewey returned to the scene of the crime, where she found the long-buried answers to questions lingering from childhood.



Try this next:

Readers stirred by this lyrical and unflinching portrait of family violence will want to check out

Blood

by Allison Moorer.
Black Radical: The Life and Times of William Monroe Trotter
by

Kerri K. Greenidge
Who it's about:

William Monroe Trotter, the Harvard-educated activist and publisher who founded the Black newspaper

Boston Guardian

in 1901.



Read it for:

an incisive and well-researched portrait of an unyielding figure whose radical political views courted controversy -- and presaged contemporary civil rights battles.



Reviewers say:

"Essential reading for our times" (

Booklist

).
Reporter
by

Seymour M. Hersh
What it's about:

investigative journalist Seymour M. Hersh's five-decade career spent chasing high-profile stories around the globe.



Topics include:

the 1968 My Lai massacre in Vietnam (for which Hersh's reporting won a Pulitzer Prize); the Watergate scandal; American military abuses post-9/11.



Try this next:

For another candid and compelling memoir by an octogenarian Pulitzer Prize-winning journalist, check out

Working

by Robert A. Caro.
Combat reporter : Don Whitehead's World War II diary and memoirs
by

Don Whitehead
Winner of two Pulitzer Prizes, Don Whitehead is one of the legendary reporters of World War II.

From the fall of September 1942, as a freshly minted A.P. journalist in New York, to the spring of 1943 as Allied tanks closed in on the Germans in Tunisia, Whitehead kept a diary of his experiences as a rookie combat reporter. The diary stops in 1943, and it has remained unpublished until now. Back home later, Whitehead started, but never finished, a memoir of his extraordinary life in combat.

John Romeiser has woven both the North African diary and Whitehead's memoir of the subsequent landings in Sicily into a vivid, unvarnished, and completely riveting story of eight months during some of the most brutal combat of the war.

In the tradition of cartoonist Bill Mauldin's memoir Up Front, Don Whitehead's powerful self-portrait is destined to become an American classic.

Prisoner: My 544 Days in an Iranian Prison --Solitary Confinement, a Sham Trial...
by

Jason Rezaian
What it is:

a powerful, briskly paced memoir chronicling Iranian American journalist Jason Rezaian's 18-month imprisonment in Tehran.



What happened:

Arrested on trumped-up espionage charges, Rezaian's release was used as a bargaining chip in Iran's nuclear deal negotiations with the Obama administration.

What's inside:

frank

discussions concerning U.S.-Iran relations and Rezaian's complicated relationship with his family's homeland.
Under Fire: Reporting from the Front Lines of the Trump White House
by

April Ryan; foreword by Tamron Hall
What it's about:

the tumultuous first year of the Trump administration as seen through the eyes of White House correspondent April Ryan, a frequent target of the president and his acolytes.



Read it for:

an impassioned chronicle of what it's like to be one of the few Black reporters working for the White House press corps.



Reviewers say:

"will be an inspiration to those who have to fight similar battles" (

Publishers Weekly

).
Contact your librarian for more great books!
Carrollton Public Library
1700 Keller Springs Road, Carrollton Texas 75006
4220 North Josey Lane, Carrollton Texas 75010