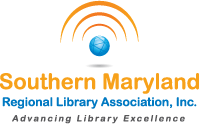 Online Resources / Library Catalog / Library Web Sites /


This service is brought to you by the Southern Maryland Regional Library
in cooperation with the public libraries of Calvert, Charles, & St. Mary's County.





Tad
by

Benji Davies
What it's about:

As "the smallest almost-a-frog in the whole wide pond," endearingly tiny Tad has learned to wiggle twice as fast as her tadpole siblings. However, despite her speed, Tad can't keep up when her siblings begin turning into frogs.



Why kids might like it:

Kids who feel out of sync or who worry about being left behind may find reassurance in Tad's eventual -- and dramatic -- metamorphosis.
The Hidden Rainbow
by

Christie Matheson
What it is:

a crowd-pleasing concept book starring an industrious hive of bees and their intrepid helper:

you

, the kid listening to the book! Without you, how will the bees know which flowers to visit?



Why kids might like it:

The book's cheery colors and bouncy rhymes will help encourage kids to count bees, recognize colors, and learn about pollination.

Try this next:

the

popular

Tap the Magic Tree

, another eye-catching interactive book by author Christy Matheson.
Khalil and Mr. Hagerty and the Backyard Treasures
by

Tricia Springstubb; illustrated by Elaheh Taherian
What it's about:

Young Khalil and his boisterous family live upstairs from reserved old Mr. Hagerty. The two neighbors don't seem particularly likely as friends, but they find common ground (literally) in their shared backyard.



Art alert:

Layered multimedia art emphasizes both the sweetness and the whimsy of this intergenerational story.
Together We Grow
by

Susan Vaught; illustrated by Kelly Murphy
What it's about:

"Go away! We're full today!" That's how most of the farm animals respond when a lashing thunderstorm drives a fox family to seek shelter in the cozy barn. Can the smallest duckling convince the other barn-dwellers that there's room for everyone?



Read it for:

pithy rhyming couplets, luminous illustrations filled with soft brushstrokes, and a gentle message about inclusion.



Reviewers say:

"Emotionally charged and eloquently rendered" (

Kirkus Reviews

).
Nana Akua Goes to School
by

Tricia Elam Walker; illustrated by April Harrison
Starring:

Zura, who's worried about bringing her beloved Nana Akua to Grandparents Day at school. What if the other kids are mean about the traditional Ghanaian Adinkra markings on Nana Akua's face?



What happens:

Confident Nana Akua has the perfect plan for sharing her heritage with Zura's class.



Art alert:

With warm hues and a wealth of patterns and textures, the mixed media artwork from award-winning illustrator April Harrison brings even more richness to this tale of family and cultural pride.
Poor Little Guy
by

Elanna Allen
Starring:

an itsy-bitsy bespectacled fish and the outsized octopus who captures it.



What happens:

The octopus toys with the little fish, and although its unhinged playfulness contains an undercurrent of threat, the balance of power between predator and prey isn't exactly as it seems.



For fans of:

the minimalist illustrations, dark wit, and expectation-defying twists in Jon Klassen's

This Is Not My Hat

.
Izzy & Oscar
by

Allison Estes and Dan Stark; illustrated by Tracy Dockray
What it's about:

Every pirate needs an animal mascot, like a parrot or a dog, but pretend pirate captain Izzy has only Oscar, an expressive purple octopus.



Read it for:

Izzy's hilariously misguided training attempts; laugh-out-loud visual humor (pictures reveal that Oscar isn't as well-behaved on a leash as the text implies); a comforting conclusion; and a list of octo-facts.



Kids might also like

: Martin McKenna's

The Octopuppy

.
Octopuses One to Ten
by

Ellen Jackson; illustrated by Robin Page
What it is:

a collection of ten intriguing facts about octopuses, delivered in easy-to-understand rhymes and striking illustrations.



Did you know:

that octopuses have blue blood and superior camouflage ability, as well as three hearts and nine brains?



Art alert:

Textured and intricately detailed digital art creates an immersive experience for curious young readers, who are encouraged to make their own octopus art using the craft projects at the end of the book.
Inky's Amazing Escape: How a Very Smart Octopus Found His Way Home
by

Sy Montgomery; illustrated by Amy Schimler-Safford
What it's about:

the real-life exploits of Inky, an octopus whose drive to explore led him to make a highly unusual exit from New Zealand's National Aquarium.



Why kids might like it:

It's tough

not

to like this book's clever cephalopod hero, and the abundance of fascinating facts will grab aspiring scientists.



About the author:

Naturalist Sy Montgomery writes for readers of all ages – you might recognize her from her popular adult book

The Soul of an Octopus

.
Also an Octopus
by

Maggie Tokuda-Hall; illustrated by Benji Davis
What it is:

a delightfully off-kilter metafictional romp disguised as a how-to guide for writers.



What's inside:

Since "every story needs a character," and this story stars a ukulele-strumming octopus. And since every character "needs to want something," the octopus resolves to build a purple spaceship made of glitter and waffles. You can imagine how outrageous things get after that...



Who it's for:

Budding storytellers may be inspired by

Also an Octopus

' blend of absurdity and instruction.
Contact your librarian for more great books for ages 0-8!
If you are having trouble unsubscribing to this newsletter, please contact NextReads at 919-489-3713, 3710 Mayfair Street, Durham, NC 27707