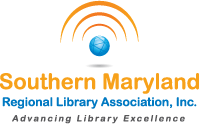 Online Resources / Library Catalog / Library Web Sites /


This service is brought to you by the Southern Maryland Regional Library
in cooperation with the public libraries of Calvert, Charles, & St. Mary's County.





Curse of the Night Witch
by

Alex Aster
Welcome to:

Emblem Island, where everyone is born with an emblem that shapes their fate.



What happens:

Twelve-year-old Tor Luna tries to wish away his leadership emblem, only to have it replaced by a curse that will kill him in one week -- unless he goes on a perilous quest to find the legendary Night Witch.



For fans of:

other fast-paced series starters inspired by Latin American myths, such as Tehlor Kay Mejia's

Paola Santiago and the River of Tears

.
Once Upon a Space-Time!
by

Jeffrey Brown
Introducing:

Jide and Petra, two astronaut cadets from Earth who are chosen for a mission on Mars, where their teammates include an unimpressed lizard, a robot-assisted starfish, and a species of clones all named Tobey.



Art alert:

Busy illustrations reflect the off-the-wall humor in this science fiction graphic novel.



About the author:

If you're a

Star Wars

fan, you might recognize author/artist Jeffrey Brown from his earlier space school series, Jedi Academy.
Hand-Me-Down Magic: Stoop Sale Treasure
by

Corey Ann Haydu; illustrated by Luisa Uribe
What it's about:

Alma was excited to join her best friend and cousin, Del, in the apartment building their relatives share. But once she arrives, she's not sure she fits in, especially after she fights with Del over some maybe-magical earrings.



Read it for:

the super-short chapters and characters you'll want to be friends with.



Series alert:

You don't have to wait to read more about Alma and Del -- the next book in the series,

Crystal Ball Fortunes

, is already out.
Doodleville
by

Chad Sell
In a world...

where art comes to life, Drew brings her sketchbook full of mischievous doodles on an art club trip to the museum. There, the doodles escape and start causing trouble for the famous paintings, as well as for the other kids in art club.



Why you might like it

: Bright, inviting illustrations help to balance the realistic worries and friendship problems in this graphic novel from the creator of

The Cardboard Kingdom

.
Yorick and Bones
by

Jeremy Tankard and Hermione Tankard
Hark!

What's stirring in the graveyard? It's Bones, a scruffy gray dog who's just dug up Yorick, a lonely, magically awakened skeleton with a

very

old-fashioned way of talking.



Prithee mark:

the bold lines and eye-catching colors in this illustrated tale of unlikely friendship.



Wherefore thou mayst like it:

What's

not

funny about a skeleton who sounds like Shakespeare hanging out with an adorable little dog?
Rise of the Jumbies
by

Tracey Baptiste
Starring:

Corrine La Mer, a brave girl who protects her Caribbean island community from the fearsome trickster jumbies, even though she's half-jumbie herself.



What it's about:

When kids begin disappearing from the beach, Corrine turns to Mama D'Leau, leader of the ocean jumbies. Mama agrees to help, but only at a dangerous price.



Series alert:

You can dive into this vivid fantasy series with this 2nd book, or start at the beginning

The Jumbies

.
Race to the Bottom of the Sea
by

Lindsay Eagar
What it's about:

Brilliant 11-year-old inventor Fidelia Quail is still recovering from the deaths of her marine biologist parents when she's kidnapped by Merrick the Monstrous, a pirate who needs her science skills to retrieve a sunken treasure.



Read it for:

humor, high seas adventure, a historical setting with futuristic tech, and characters who are more than they seem.
Sharks: Nature's Perfect Hunter
by

Joe Flood
What it is:

Filled with drawings, diagrams, and information about history and science, this comic book takes an up-close look at the ocean's most famous predators: sharks!



Series alert:

If you prefer facts over fiction, along with plenty of pictures to browse, you'll want to sink your teeth into the other books in the Science Comics series, which explores wide-ranging subjects such as planes, plagues, bats, and brains.
Edison: The Mystery of the Missing Mouse Treasure
by

Torben Kuhlman; translated by David Henry Wilson
Welcome to:

Mouse University, where young mouse Pete and his elderly professor research an old shipwreck, build a mouse-sized submarine, and journey to the ocean floor in search of treasure.



Why you might like it:

The art does the storytelling in this mostly wordless book -- you'll be spellbound by the precise details and clever touches in the sophisticated illustrations.



You might also like:

Armstrong

and

Lindbergh

, two further tales of mouse trailblazers from German author/artist Torben Kuhlmann.
Aquicorn Cove
by

Katie O'Neill
What it's about:

While visiting the seaside town where she used to live -- and where her mom died -- a girl named Lana rescues a tiny orange aquicorn (imagine a cross between a seahorse and a unicorn) and discovers that her family's past could affect the future of these magical creatures.



Art alert:

From cool coastal blues to candy-bright pastels, the imaginative art in this graphic novel brims with color.
Contact your librarian for more great books for ages 8-11!
If you are having trouble unsubscribing to this newsletter, please contact NextReads at 919-489-3713, 3710 Mayfair Street, Durham, NC 27707