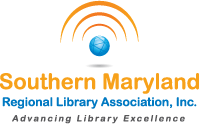 Online Resources / Library Catalog / Library Web Sites /


This service is brought to you by the Southern Maryland Regional Library
in cooperation with the public libraries of Calvert, Charles, & St. Mary's County.





King and the Dragonflies

by Kacen Callender

What it's about: Twelve-year-old King knows too many secrets. King knows that his older brother Khalid didn't really die, he just turned into a dragonfly. King knows where his runaway friend Sandy is hiding. And King knows that Sandy is gay -- just like him.

Read it for: strong emotions, memorable characters, and a Louisiana setting so vivid you can almost feel the humidity.

This title can be found on hoopla.
Mañanaland

by Pam Muñoz Ryan

The setting: the fictional country of Santa Maria, where Max Córdoba listens to his Buelo spin incredible stories, wonders about his long-absent mother, and hopes to make the local fútbol team.

What happens: Max learns that Buelo's stories are true -- their family really does serve as guardians who guide refugees to safety in Mañanaland, and now it's Max's turn to undertake a hazardous journey.

Read it for:

a

poetic and powerful fantasy story with roots in the real world.

Audiobook available on hoopla.
Pippa Park Raises Her Game

by Erin Yun

What it's about: Everyone expects something from Pippa Park: her family expects her to help at their laundromat, her fancy school expects her to excel in class and on the basketball court, and her rich friends expect her to live up to the lies she tells to fit in. Can she make it through the year without letting anyone down?

Why you might like it: Even as she makes mistake after mistake, you'll find yourself cheering for bold, funny Pippa.

Ebook available on hoopla.
Contact your librarian for more great books for ages 10-13!
If you are having trouble unsubscribing to this newsletter, please contact NextReads at 919-489-3713, 3710 Mayfair Street, Durham, NC 27707