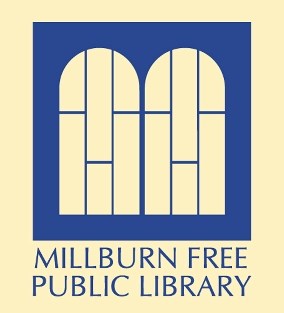 Back / Millburn Home Page / Catalog / BCCLS

Jabari Jumps

by

Gaia Cornwall

"I'm a great jumper...so I'm not scared at all!" Arriving at the pool with his dad and sister, Jabari declares his intention to jump off the diving board for the first time. His behavior belies his words, though: Jabari lingers in line, and when faced with the ladder, he stalls (he can't jump without stretching first, right?). Eventually, some reassuring words of encouragement from his dad help Jabari find the courage to make a big splash. Mixed-media illustrations use varying perspectives (including Jabari's view from the board) to convey the anxiety and exhilaration in this "simple and sincere tale" (

Kirkus Reviews

).
I Got a New Friend

by

Karl Newsom Edwards

The curly-haired girl and the floppy-eared puppy are both a little skittish when they first meet, but once they get used to each other, they become fast friends. Soon, they're doing everything together: eating, sleeping, playing, keeping clean, and (of course) hugging. The sweet straightforwardness of their friendship is echoed in the easy-to-read text and boldly outlined cartoon illustrations -- the only twist is an ambiguous ending that may send readers back to the beginning to figure out who is narrating. This winsome read is sure to be a hit in households that have recently welcomed a new pet.

Go Sleep in Your Own Bed!

by

Candace Fleming; illustrated by Lori Nichols

Preschoolers will eagerly pick up the animal sounds and repetition in this playful bedtime book. Pig is ready to snuggle down in his sty, only when he plops down…"Moooo! Who do you think he found?" Pig sends Cow to her stall, calling "Go sleep in your own bed!", a phrase which Cow, Hen, Horse, Sheep, and Dog have cause to repeat as each finds an interloper in their sleeping spot. Plentiful onomatopoeia, goofy wordplay ("Oh, baaah-ther!" exclaims Sheep), and a backdrop of soothing colors combine to make

Go Sleep in Your Own Bed

"a standout for drowsy bedtime reading" (

School Library Journal

).
The Three Billy Goats Gruff

by

Jerry Pinkney

With his distinctively lush paintings, celebrated storyteller and illustrator Jerry Pinkney takes on another well-known folktale. Three goats long to visit the pasture across the river, but a fearsome, sharp-tusked troll guards the bridge. With the traditional "trip, trap!" the first two goats venture across, each fending off the troll with the promise of larger prey to follow. When the third goat approaches…well, we won't spoil the conclusion, except to say that you might find it funnier and more open-ended than you expect. Fans of this adaptation will also adore Pinkney's earlier fables, such as

The Lion & the Mouse

or

The Grasshopper & the Ants

.
Hattie & Hudson

by

Chris Van Dusen

While singing to herself and paddling around the lake near her home, young Hattie McFadden finds herself in an impromptu duet with a giant green lake monster. Hattie quickly makes friends with the gentle creature (whom she dubs Hudson) -- but can she convince the terrified townspeople that Hudson isn't a threat? Similar in appearance to the Loch Ness Monster (a family resemblance, perhaps?), Hudson is impressively huge, and small children will relish the illustrator's use of multiple perspectives to emphasize the size difference between the interspecies pals. Equal parts charming and compassionate, this cryptid tale is sure to be a crowd-pleaser.
What Can a Crane Pick Up?

by

Rebecca Kai Dotlich; illustrated by Mike Lowery

Little ones may well wonder what a crane CAN'T pick up by the time they reach the end of this peppy book, which shows smiling cartoon cranes lifting all kinds of things -- from trucks and train cars to a polar bear, cartons and cartons of underwear, and even other cranes. With its cheerily simple illustrations and silly, rhythmic rhymes, this fun book will have kids wondering about the limits of all kinds of big machines. For more great picture books that show just what different construction vehicles can do, try William Low's

Machines Go to Work

, Sally Sutton's

Roadwork

, or Nathan Clement's

Job Site

.
Bulldozer's Big Day

by

Candace Fleming; illustrated by Eric Rohmann

Following his first outing in

Bulldozer Helps Out

, perky yellow Bulldozer is eager to celebrate his birthday. Zipping around the construction site, he asks his friends to "guess what day today is!" only to be disappointed when Digger, Dump Truck, Cement Mixer and others seem to be too busy working to pay him any attention. Have his friends truly forgotten his special day? Heavy-lined, primary-colored block prints lend a satisfying heft to the denizens of the construction site, all of whom gather after work for a surprise birthday party, complete with enormous cake.
Busy Builders, Busy Week!

by

Jean Reidy; illustrated by Leo Timmers

Exclamation points pepper the rhymes in this exuberant picture book about an animal construction crew. They've got one week to complete a mysterious project (though sharp-eyed readers will clue in before the big reveal), and they'll only succeed by working together. From planning and digging to building and painting, each day brings a fresh wave of cartoony, wide-eyed animal workers to get the job done. Fanciful details -- such as a roller-skating giraffe or a relocated family of worms -- will draw in young readers and encourage repeat readings of this sweetly upbeat story.
Goodnight, Goodnight, Construction Site

by

Sherri Duskey Rinker; illustrated by Tom Lichtenheld

Lots of big-truck books are rowdy, but this popular read is just right for bedtime. Opening at sunset, it shows Crane Truck, Cement Mixer, and other personified construction vehicles finishing up the day's work and getting themselves ready for a good night's rest. Simple rhymes describe the trucks' bedtime routines as well as what they've been up to all day (lifting, digging, dumping, etc.), while crayon-textured cartoon illustrations show the machines happily settling in to sleep; may your truck-loving toddler be inspired to follow suit!
The Mixed-Up Truck

by

Stephen Savage

It's his first day of work, and the red-striped cement mixer is eager to please. When the experienced trucks on the construction site tell him to "mix up some powdery white cement," he rushes off to collect some white powder, adds water, and…"presto! A CAKE!" Oops -- it was flour, not cement! Though readers are clued in by the pictures, it takes a few tries for the cement mixer to get it right, with each comical mistake revealed after a repeated refrain. Kids who want more of the crisp artwork and can-do spirit in

The Mixed-Up Truck

will want to check out author Stephen Savage's earlier book,

Supertruck

.
Contact your librarian for more great books!
If you are having trouble unsubscribing to this newsletter, please contact the Millburn Free Public Library at
973-376-1006, 200 Glen Avenue, Millburn, NJ 07041