Welcome the January 2012 edition of the NOBLE Digital Heritage newsletter.
The
NOBLE Digital Heritage site
, a project of the North of Boston Library Exchange, Inc. (NOBLE) and our member libraries, was created to serve as a repository of resources that document the rich social and cultural history of our member communities.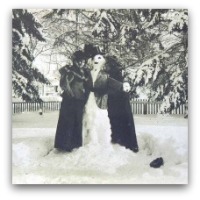 Given the dearth of snow and some unseasonably mild temperatures of late, it is almost possible to forget that it is winter.  How different from last year when the Boston area accumulated almost 85 inches of snow.  In fact,  January 2011 was the third snowiest on record, with a total of 38 inches.  The snow and cold created the usual problems: closed schools, grid locked roads, frozen pipes and depleted municipal budgets. Despite these headaches, winter weather does have its benefits.  Lest we forget them entirely, here we celebrate winter's pleasures.
Click on any image or link to learn more about these images or browse all of our
collections
.
Highlights from the Collection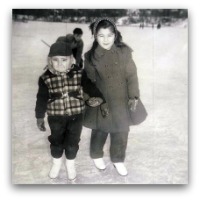 Description: In this image taken during the winter of 1954-55, Kathryn J. Morano and her younger brother, Don, skate on the Meadows in the Tapleyville section of Danvers, Mass.

Date: 1954-1955

Collection: Danvers Memories Project (Peabody Institute Library, Danvers)
The 1950 Abbot Circle Intervale Trip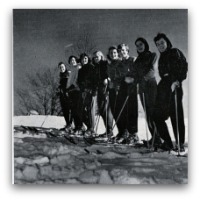 Description: The Circle was the yearbook for Abbot Academy named for the circle upon which the main campus was arranged. Skiing was a part of the school trip to Intervale in North Conway, N.H. where the seniors would go to bond.
Collection: Academy Publications, (Oliver Wendell Holmes Library, Phillip Academy)
Percy Cutter skating on Saugus river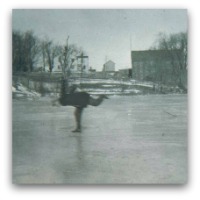 Description: In this image, young Percy Cutter skates on the Saugus river. The Scott mill stands prominently on the shore in the background.

Collection: Helen Cutter Slides (Saugus Public Library)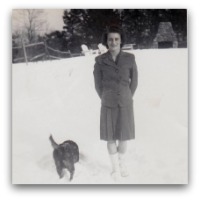 Description: Alice Wells Young poses with the family dog, "Blackout," named appropriately for the wartime period, after the winter's first snow.
Date: 1942-1943
Collection: Danvers Memories Project (Peabody Institute Library, Danvers) 
Hockey game in flooded yard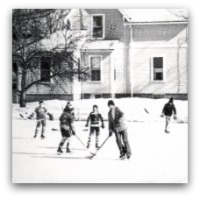 Description: Boys play a pick up hockey game in a neighborhood yard in Reading, Mass.
Collection: Reading Historical Images (Reading Public Library)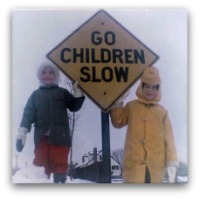 Description: Tracy Twomey and Dennis Twomey were having fun on a "snow day" during one of several big storms during the winter of 1966-1967.

Date: February, 1967
Collection: Danvers Memories Project (Peabody Institute Library, Danvers)