A complete list of April events can be found here.
Welcome to your new Chapel Hill Public Library!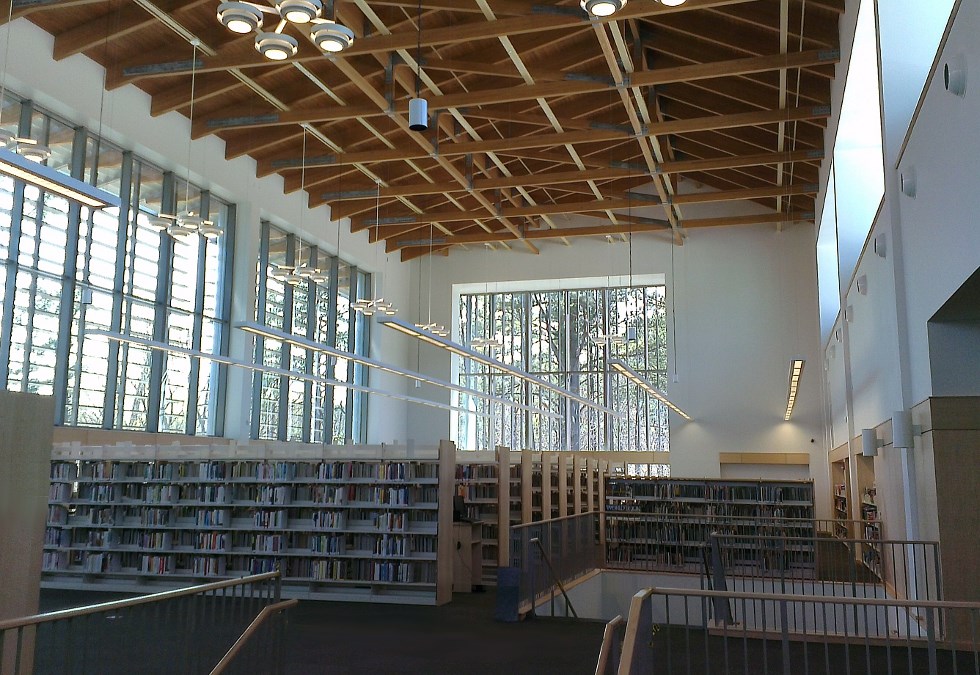 The books are here, the doors are open and the librarians are ready to welcome the community at the
100 Library Drive location
. Come see our new beautiful facility and its new offerings. - Got questions? See our

New Library FAQs.
There will be a formal Dedication ceremony and celebration on April 20.
New North Carolina Fiction
Nothing Gold Can Stay: Stories
-
by Ron Rash
Publisher:
Ecco Press

Check Library Catalog
Pub Date:
02/19/2013

ISBN-13:
9780062202710

ISBN-10:
0062202715

In his third collection of stories, author Ron Rash continues to explore the emotionally harsh terrain of Appalachia, which he definitively renders through the use of local dialect, atmospheric prose, and flawed characters. While all 14 stories are set in North Carolina, they take place from the Civil War era to the present. Traps -- both figurative and literal, of the characters' own making or by others -- figure frequently, as individuals trapped by their circumstances try to better their lives, sometimes with disastrous outcomes. Provocative and insightful, these stories make "an indelible impression" (
Kirkus Reviews
).
Killer crust
-
Chris Cavender
Publisher:
Kensington Pub Corp

Check Library Catalog
Pub Date:
12/01/2012

ISBN-13:
9780758271525

ISBN-10:
0758271522


Pizzeria owner Eleanor Swift and her sister Maddy help the police investigate the death of frozen pizza dough baron Laughing Luigi, who died after eating a poisoned slice of the sisters' pizza during a baking contest with a $25,000 prize.
Loved honor more : an Elizabeth Pepperhawk/Avivah Rosen mystery
-
Sharon Grant Wildwind
Publisher:
Five Star

Check Library Catalog
Pub Date:
12/05/2012

ISBN-13:
9781432826192

ISBN-10:
1432826190

The fall of Saigon brings the war home to North Carolina for several Vietnam vets and their friends. Nurse Elizabeth Pepperhawk thinks she's left Vietnam behind. But when a woman arrives on her doorstep with a baby and the field diary of West Point graduate Col. Darby Baxter, the memories come rushing back.
Powdered peril
-
Jessica Beck
Publisher:
St. Martins Press

Check Library Catalog
Pub Date:
08/01/2012

ISBN-13:
9781250001061

ISBN-10:
1250001064

When her best friend Grace is accused of murdering her no-good cheating boyfriend, donut shop owner Suzanne Hart investigates in order to find the real killer.
New Teen and Juvenile North Carolina Fiction
Crimson frost: a Mythos Academy novel
-
Jennifer Estep
Publisher:
KTeen

Check Library Catalog
Pub Date:
12/01/2012

ISBN-13:
9780758281463

ISBN-10:
0758281463

Arrested in the middle of her first date with Logan and wrongly accused of helping the Reapers free the evil god Loki, Gwen is shocked to learn that her accuser is Logan's father and that everyone at Mythos Academy believes she is guilty.
Wrapped up in you : Wrapped Up in You
-
Dan Jolley
Publisher:
Graphic Universe

Check Library Catalog
Pub Date:
10/01/2012

ISBN-13:
9780761368564

ISBN-10:
0761368566


North Carolina eighteen-year-old Staci tries to keep her friend Faith safe from a group of witches but winds up helping the Incan mummy the group has reanimated, who also happens to be very attractive and charming.
Winter white
-
Jen Calonita
Publisher:
Little, Brown

Check Library Catalog
Pub Date:
10/01/2012

ISBN-13:
9780316091169

ISBN-10:
0316091162


The daughters of a North Carolina senator, Isabelle and Mirabelle, who are still reeling from the knowledge that they are not cousins, but actually sisters, barely have time to process the news with cotillion season right around the corner.
Three times lucky
-
Sheila Turnage
Publisher:
Dial Books for Young Readers

Check Library Catalog
Pub Date:
05/01/2012

ISBN-13:
9780803736702

ISBN-10:
0803736703

Washed ashore as a baby in tiny Tupelo Landing, North Carolina, Mo LoBeau, now eleven, and her best friend Dale turn detective when the amnesiac Colonel, owner of a cafe and co-parent of Mo with his cook, Miss Lana, seems implicated in a murder.