VOTE FOR HOUSTON PUBLIC LIBRARY
ON FACEBOOK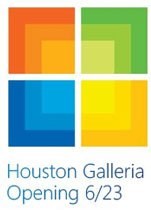 The Microsoft Store is opening at Houston Galleria June 23, at 10AM. In support of our local community and to celebrate the launch of their new store, Microsoft has chosen us as one of its featured organizations and offered a substantial grant in technology resources, a value of up to $250,000. The amount of our grant will be based largely on the number of votes we receive on the Microsoft Store Facebook page.
Please visit
www.microsoftstore.com/giving
to cast your vote for Houston Public Library.
Your vote is worth $20 worth of Microsoft software. If you share your vote you can earn us an additional $20, for a total of $40 worth of Microsoft software.
Voting ends June 22!
---
Microsoft Store Grand Opening
Join us for the grand opening of the Microsoft Store on June 23.
The opening ceremonies start at 9:30 AM and will also include special guests, offers and amazing product experiences.