An Evening with David Eagleman at the Central Library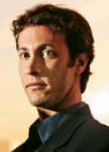 Thursday, June 16 | 6PM – 8PM
Central Library | 4th Floor Program Place
Join us for a special visit from neuroscientist and author David Eagleman, who will discuss and sign copies of his latest book, Incognito: The Secret Lives of the Brain.

If the conscious mind—the part you consider you—is just the tip of the iceberg, what is the rest doing? In this sparkling and provocative new book, renowned neuroscientist David Eagleman navigates the depths of the subconscious brain to illuminate surprising mysteries: Why can your foot move halfway to the brake pedal before you become consciously aware of danger ahead? Why do you notice when your name is mentioned in a conversation that you didn't think you were listening to? What do Ulysses and the credit crunch have in common? Why is it so difficult to keep a secret? How is it possible to get angry at yourself? Who, exactly, is mad at whom? Taking in brain damage, plane spotting, dating, drugs, beauty, infidelity, synesthesia, criminal law, artificial intelligence and visual illusions, Incognito is a thrilling subsurface exploration of the mind and all its contradictions.

David Eagleman is a neuroscientist at Baylor College of Medicine, where he directs the Laboratory for Perception and Action as well as the Initiative on Neuroscience and Law. His scientific research is published in journals from Science to Nature, and his neuroscience books include Wednesday Is Indigo Blue: Discovering the Brain of Synesthesia and the forthcoming Live-Wired. He is also the author if an internationally bestselling book of fiction, Sum: Forty Tales from the Afterlives.
Incognito: The Secret Lives of the Brain
-
by David Eagleman
Publisher:
Pantheon

Check Library Catalog
Pub Date:
05/31/2011

ISBN-13:
9780307377333

ISBN-10:
0307377334

Call Number:
153 E11

A leading neuroscientist reveals the functions of the unconscious regions of the brain, drawing on up-to-the-minute research to identify the significance of brain areas outside of our awareness and their roles in such areas as mate selection, the perception of beauty and the future of criminal law.
Have You Read ...
Looking for your next book? Librarians at Houston Public Library will create a customized reading list for you, based on your exact preferences.

Ask a Librarian
Houston Public Library's info 24/7 chat reference service is available
24 hours a day, 7 days a week.

NextReads
We've added newsletters!
Check out our NextReads Opt-in Page to see what's new.