Death in St. Petersburg: A Lady Emily Mystery
by

Tasha Alexander
In St. Petersburg, Russia, the body of a rising star, a young prima ballerina, is discovered in the snow, still wearing her white

Swan Lake

tutu. Having attended the ballet, Lady Emily and her British spy husband become involved in a case that is complicated by a distraught lover, the politics of Tsarist Russia, and sightings of a ghostly dancer. This well-researched 12th entry in the Lady Emily mysteries will make readers feel as if they've visited St. Petersburg. Ballet aficionados will find much to like here, including narrative parts of the story that portray the young ballerina at school.
The Seagull
by

Ann Cleeves
Vera Stanhope's latest case has a link to her now-deceased cop father, who raised her alone...and sometimes used her as a lookout on some of his less-than-legal outings with his "Gang of Four." While Vera's giving a talk at a prison, current inmate (and former cop and Gang-of-Four member) John Brace tells her he has info about a buried body -- if she looks after his daughter. Vera agrees, and then the cops dig up two skeletons instead of one. What do a 1980s bar and her father have to do with it all? Tough, dedicated Vera will sort it out. This is the 8th in the compelling series that inspired TV's

Vera

.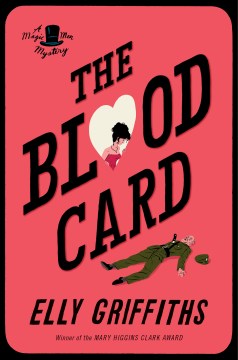 The Blood Card
by

Elly Griffiths
It's 1953, and while most of England is preparing for the coronation of its young queen,

DI Edgar Stephens and his two detective sergeants investigate the suspicious death of

a Brighton fortune teller. Then,

Edgar and his magician friend Max Mephisto try to figure out who murdered

their former commanding officer, leading Edgar to take a trip to New York alone as Max readies for his television debut. This engaging 3rd entry in Elly Griffiths

atmospheric

Stephens and Mephisto novels will please fans of 1950s-set mysteries as well as those who like a bit of romance with their crimes.
Righteous: An IQ novel
by

Joe Ide
In this firecracker of a follow-up to last year's award-winning debut

IQ

, readers find Isaiah "IQ" Quintabe dealing with the news that his beloved brother Marcus' hit-and-run death eight years ago wasn't an accident. Then, Marcus' former fiancée shows up; her sister is in trouble in Las Vegas and needs help. IQ and his volatile (and funny) sidekick, Dodson, head to Sin City to help out and end up dealing with Chinese gangsters and a formidable loan shark. Anyone looking for a modern, gritty take on Sherlock Holmes should check out this fantastic series.
Murderous Mistral
by

Cay Rademacher
Policing in Provence may sound like a dream job, but it's punishment for

Capitaine Roger Blanc; he's been transferred from Paris after

leading corruption investigations into a trade minister and others. He has a home (inherited, in dire need of renovation) but no wife (she stayed in the city with her lover). When an unpopular local man is murdered, Blanc works to solve the crime, even if his new partner is a bit lackadaisical about the whole thing. Wish you were in the South of France? This evocative series launch should take you there.
Old Scores
by

Will Thomas
In anticipation of opening an embassy, a delegation of Japanese diplomats has arrived in 1890 London. When one of them is shot to death, detective Cyrus Barker is accused of the crime (to be fair, he was near the murder scene carrying a gun that had been recently fired). Hired by one of the diplomats who doesn't think he did it, Baker and his witty Welsh sidekick Llewelyn try to find the real killer in this strong 9th series entry that gives fans previously unknown details about Barker's time in Asia.