The War & Society Roundtable is a joint community and university monthly reading group. Sponsored jointly by Southern Miss's Center for the Study of War and Society and the Library, this year the Roundtable focuses on books dealing with deception in history.  A friendly but spirited discussion about the book is moderated by a History faculty member from Southern Miss.  The Roundtable is a great way for community members, faculty, and students to interact while exploring topics of mutual interest.  Copies of each month's books -- provided by the Library and through a generous grant from The Mississippi Humanities Council -- are available for loan at the Hattiesburg Public Library well in advance of each meeting.  The Roundtable is free to the public and is generally held at 6 pm on the second Tuesday of each month during the academic year.
Sisters in the Resistance : How Women Fought to Free France, 1940-1945
-
Margaret Collins Weitz
Publisher:
J. Wiley

Check Library Catalog
Pub Date:
03/01/1998

ISBN-13:
9780471196983

ISBN-10:
0471196983

Tueday, September 10th 6:00 pm 
Often moving, always fascinating, women in the French Resistance is a key subject. Margaret Weitz has gathered personal testimonies that explores the clandestine work of women ho fought during the Nazi occupation and set them in an intelligible context that helps us understand how all French people--men and women--experienced the Nazi occupation."
Moderated by Dr. Allison Abra 
The CIA's Secret War in Tibet
-
Kenneth J. Conboy and James Morrison
Publisher:
Univ Pr of Kansas

Check Library Catalog
Pub Date:
02/10/2011

ISBN-13:
9780700617883

ISBN-10:
0700617884


Tuesday, October 8th, 6:00 pm
The CIA's Secret War in Tibet takes readers from training camps in the Colorado Rockies to the scene of clandestine operations in the Himalayas, chronicling the agency's help in securing the Dalai Lama's safe passage to India and subsequent initiation of one of the most remote covert campaigns of the Cold War.
Moderated by Dr. Daniel Capper
Operation Fortitude : The Greatest Hoax of the Second World War
-
Joshua Levine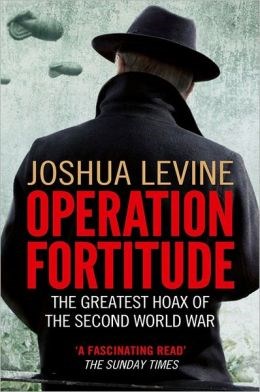 Tuesday, November 12th, 6:00 pm
Operation Fortitude tells the thrilling tale of an ingenious decption that changed the course of the Second World War. The Story is one of intrigue, drama, and good fortune, practically a Hollywood script. It is the tale of double agents, fake radio transmissions and dummy invasion craft. 
Moderated by Dr. Andrew Wiest