Virtual Workshop for Writers: Personal Diaries: Journaling Through the Pandemic

Thursday, July 23

,

2:00 pm

Event Location

Designed especially for who want to preserve their memories of the shelter-in-place, this free and virtual workshop is appropriate for both adults and teens. Everyone can find some value from a regular journaling practice. The Library welcomes one of its most popular presenters, Meredith Doench, as she guides you through different methods of journaling and the benefits of keeping one. Meredith Doench is the author of the Luce Hansen Thriller Series and teaches creative writing, literature, and composition at the University of Dayton.
The Blizzard Bride
by Susanne Dietze
Abigail Bracey arrives in Nebraska in January 1888 to teach school...and to execute a task for the government: to identify a student as the hidden son of a murderous counterfeiter--the man who killed her father. Agent Dashiell Lassiter doesn't want his childhood sweetheart Abby on this dangerous job, especially when he learns the counterfeiter is now searching for his son, too, and he'll destroy anyone in his way. Now Dash must follow Abby to Nebraska to protect her...if she'll let him within two feet of her. She's still angry he didn't fight to marry her six years ago, and he never told her the real reason he left her. All Dash wants is to protect Abby, but when a horrifying blizzard sweeps over them, can Abby and Dash set aside the pain from their pasts and work together to catch a counterfeiter and protect his son--if they survive the storm?
On a Coastal Breeze
by

Suzanne Woods Fisher
After finishing her clinical training for family therapy, Maddie rejoins her family, including sisters Cam and Blaine, on a small island off the coast of Maine to open a psychotherapy practice. However, her newfound confidence fails her when Rick O'Shea, her childhood friend turned high school sweetheart, reenters her life as the island's new pastor. He left her heartbroken on prom night, and as Maddie and Rick learn how to forgive themselves as well as each other, they bond over their shared faith and rekindle their relationship. Meanwhile, Cam, the eldest sister, reevaluates her priorities as she cares for her adoptive son and plans her wedding. Blaine, the youngest sister, disappoints the family by quitting culinary school and avoiding the repercussions of an emotional relationship she started with a married professor (nicely setting up the next installment). While this could be read as a standalone, readers should start from the beginning to fully appreciate the secondary plots involving Cam and Blaine. This winsome tale will hit the spot for fans of contemporary inspirationals.
The Fifth Avenue Story Society
by

Rachel Hauck
Five New Yorkers receive mysterious invitations to a "story society" at an exquisite private library. None of them knows how the invitations were delivered or who they are from but they all show up, and their convening remains unexplained. Ed, a septuagenarian Vietnam war vet, wants to write about his fairy-tale marriage to Esmerelda. Coral may be about to lose her multimillion-dollar family cosmetics business following her broken engagement to a prince. Lexa has been doing the job of a CEO but with the pay and title of an executive assistant. Chuck, an Uber driver, just wants to see his kids. College professor Jett needs to get his dissertation on his literary idol in shape to publish as a book, but he is beginning to worry that his hero may have been a fraud. Although they seem to have little in common, they decide to keep meeting. As they end up helping each other through their struggles, their secrets gradually unfold.
Of Literature and Lattes
by

Katherine Reay
Katherine Reay
returns to the cozy and delightful town
of
Winsome where two people discover the grace
of
letting go and the joy found in unexpected change. After fleeing her hometown three years earlier, Alyssa Harrison never planned to return. Then the Silicon Valley start-up she worked for collapsed and turned her world upside down. She is broke, under FBI investigation, and without a place to go. Having exhausted every option, she comes home to Winsome, Illinois, to regroup then move on as quickly as possible. Yet, as friends and family welcome her back, Alyssa begins to see a place for herself in this small Midwestern community. Jeremy Mitchell moved from Seattle to Winsome to be near his daughter and to open the coffee shop he's been dreaming
of
for years. Problem is, the business is bleeding money-and he's not quite sure why. When he meets Alyssa, he senses an immediate connection, but what he needs most is someone to help him save his floundering business. After asking for her help, he wonders if something might grow between them-but forces beyond their control soon complicate their already complex lives, and the future they both hoped for is not at all what they anticipated. With the help
of
Winsome's small-town charm and quirky residents, Alyssa and Jeremy discover the beauty and romance
of
second chances.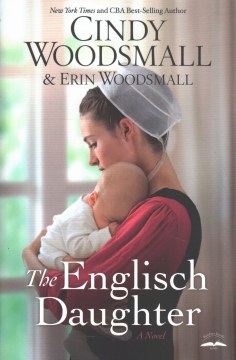 The Englisch Daughter
by

Cindy Woodsmall and Erin Woodsmall
In this charming inspirational from Cindy and Erin Woodsmall (

A Christmas Haven

), a mother and daughter-in-law writing team, Roy and Jemima Graber are an Amish couple coming to terms with life after a buggy accident leaves Roy debilitated and their eldest daughter disabled. A year after the accident, Roy becomes more distant from Jemima, and their difficulties go beyond Roy's physical recuperation. Jemima's badgering attitude, meanwhile, only serves to place a guilt trip on Roy. Jemima learns that Roy has cheated on her with a former girlfriend and, to support his girlfriend and their child, has drained the bank account that Jemima and Roy's sister have been using to save money for a food truck. Despite Jemima's devotion to her faith and family, the prospect of rebuilding trust will not be easy. Roy's emotionally charged road to redemption provides many profound moments of reflection from the characters on the ripple effects of sins and the struggle to forgive. This is the Woodsmalls' best work yet.
If You Like: Karen Kingsbury
The Masterpiece
by

Francine Rivers
Grace Moore took the job as personal assistant to the renowned artist Roman Velasco because she knew it was a chance to begin an independent life with her infant son. Determined not to let love blind her again, she sets firm boundaries with her troubled, albeit gorgeous, boss. But something in Grace's quiet and persistent witness of her faith triggers something in Roman. When Roman's life in the shadows as an anonymous graffiti artist reawakens the pain from both of their dark and dangerous pasts, the two realize how connected they may actually be. Best-selling Rivers (Bridge to Haven, 2014) presents a lengthy, emotionally uninhibited tale of childhood trauma and its affects in adulthood. She handles the difficult topics of addiction, emotional abuse, gang activity, and murder-suicide, all connected to children, with unapologetic directness. Her writing is grounded in conservative Christian values and touches on deeper points of theology and the afterlife. Readers will marvel at Rivers' storytelling arc encompassing the reconciliation of gritty past misdeeds with the work in progress of a life of forgiveness

.
The Second Half
by

Lauraine Snelling
Mona and Ken Sorenson are approaching the best years of their lives. Mona's greatest concern is that Ken will learn of the surprise party she's planning for his retirement from his job as Dean of Students at Stone University. They've already been making plans to travel, spend limitless hours in the garden, and Ken is looking forward to working on his woodworking and fishing with his grandchildren. It's what they deserve after years of careful planning. But things begin to unravel when Ken learns that office politics are about to destroy his department. Can he really just leave, abandoning the work he spent a lifetime achieving? Mona is eager to build her event planning business with Ken's help, but rather than supporting her, he expresses concern that the stress of the work will send her back into the depression she struggles with. Then, just days before Ken's last official day of work, their son, a Special Forces officer in the Army, learns he's being immediately deployed on a six-month mission in Pakistan. Since his wife left him, the only people he trusts to care for his two young children are his parents. In an instant, everything Ken and Mona spent their lives planning changes, and they will need to find strength, both physical and mental, to become parents once more. This is not the second half they wanted, and when their son fails to contact them as planned, they struggle to trust that it is God's plan, not theirs, that matters most

.
The Story Keeper
by

Lisa Wingate
New York editor Jennia Beth Gibbs begins her dream job at the legendary Vida House Publishers. Mr. Vida himself has eschewed many of the modern ways of the industry, including electronic submissions, and has one of the few actual slush piles in the business. In fact, his towering stack of nearly rejected manuscripts is referred to as "Slush Mountain." One day one of these yellowed submissions mysteriously appears on Jen's desk. She has no idea who has left it there, or who wrote it, and finds the story fascinating, if frustratingly unfinished. Overwhelmed by curiosity, Jen is determined to find the author as well as the ending to the manuscript. She's come to care for the main character, Sarra, a Melungeon girl in Appalachia who's treated as though she's a slave even though the Civil War is long over, and is anxious to learn what happens to her. Wingate (The Prayer Box, 2013) is, quite simply, a master storyteller. Her story-within-a-story, penned with a fine, expressive style, will captivate writers and nonwriters alike.
Contact your librarian for more great books!