Calling All Patrons . . .
Do you have a book you would love to recommend to other patrons?
We wo
uld like to hear from you! Please click on the link below and fill out the form.
(Your title should be part of the Avon Lake Library collection.)
The review may be posted in the library for patrons
who are looking for
book suggestions. Thank you!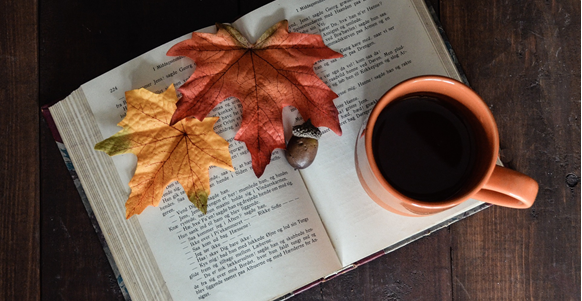 A Duke in the Night

by

Kelly Bowen

When disreputable

duke

and businessman August Faulkner comes back

in

to her life, headmistress Clara Hayward is tempted to pick up where

the

y

left off ten years ago, despite worrying that he aims to take over her family's business.

This book is the first in a new historical-romance series for the 2017 RITA award-winning author.
Cowboy on My Mind

by

R. C. Ryan

Ben Monroe was the ultimate bad boy-and everyone in Haller Creek knew it. But now as a sheriff's deputy, Ben spends his time breaking up bar fights and staying away from trouble ... until Becca Henderson comes back into town. She's just as beautiful as Ben remembers-and just as far out of his reach. Coming home is exactly what Becca Henderson needed. A place of her own, a successful new business, and a chance to reconnect with the sexy

cowboy

she had a crush

on

in school. But when an unexpected threat surfaces, Becca will see just how far Ben will go to protect the woman he loves-and fight for their chance at forever

.
A Bride for Liam Brand

by

Joanna Sims

Liam

Brand is done with waiting. The time has come to finally claim his

bride

! Single mom Kate King is juggling a daughter with a disability, a bustling horse ranch and a disappointing ex. Finding room

for

romance is more than challenging. But

Liam

has loved Kate

for

decades, and it's time to make his move. Getting to the altar, however, proves to be the easiest part of his plan. Convincing their families is another matter entirely.
His Wicked Charm

by

Candace Camp

Lilah Holcutt dislikes Constantine Moreland from the moment she meets him. He may be handsome, but he's frivolous, rash, impulsive and, worst of all, a flirt. Now that Con's twin brother has married Lilah's best friend, she's seeing way more of Con than she'd like. And when Con's sisters are inexplicably kidnapped, Lilah's own curiosity and stubbornness get the better of her, and she finds herself swept into Con's investigation

.
Once Again

by

Nora Roberts

Includes two stories, "Sullivan's Woman" and "Less of a Stranger". In the first, struggling model Cassidy St. John is fired from yet another job and Colin Sullivan offers her a job modeling for

one

of his paintings. It seems her troubles are over--but

one

look at his blue eyes and Cassidy finds they are only beginning. In "Less of a Stranger," Megan Miller puts aside her artistic ambitions to help her grandfather run his amusement park. When arrogant David Katcherton sweeps in trying to buy the park, Megan fights back. Yet Katch knows all the right--and wrong--buttons to push with Megan. As Katch challenges her to fulfill her dreams, he also arouses passions she never knew before . . .
Focus on: Romantic Suspense
The Charmers

by

Elizabeth Adler

Mirabella Matthews' Aunt Jolly died unexpectedly and mysteriously, and as a result, Mirabella has inherited her villa in

the

South of France. Driving on

the

way from

the

train with Verity,

the

young woman

she

picked up along

the

way, Mirabella is run off

the

road by a motorcycle and

soon discovers that

the

dangers do not end

the

re. It turns out that Aunt Jolly had a past, and as

the

various men who were a part of it show up at

the

villa, Mirabella and Verity must find out who can be trusted and who is using charm to mask

the

face of a murderer

.
Virtue Falls

by

Christina Dodd

Twenty-three years ago, Misty Banner was brutally slashed to death in her home in

Virtue

Falls

, Washington. Her husband was convicted of the murder. Their four year old daughter Elizabeth witnessed the crime, but has no memory of the killing. Now, two decades later, Elizabeth is back in

Virtue

Falls

. She soon discovers her father is innocent, and the real killer is still out there. And her investigation has stirred dark and deadly resentments that could provoke in another bloody murder--her own.
Troublemaker

by

Linda Howard

Isabeau Maran, a police chief in a West Virginia mountain town, crosses paths with Morgan Yancy, the leader of a paramilitary group who's been ambushed and almost killed. For Morgan, nothing comes before his job. But when he's ambushed and almost killed, Morgan is sent to a remote location and told to lay low and stay vigilant. The part-time police chief of a small West Virginian mountain town, Isabeau "Bo" Maran finally has her life figured out. Then Morgan Yancy shows up on her doorstep. Bo doesn't need a mysterious man in her life-- especially a

troublemaker

as enticing and secretive as Morgan.
The Girl Who Knew Too Much

by

Amanda Quick

At the exclusive Burning Cove Hotel, reporter Irene Glasson finds herself staring down at a beautiful actress at the bottom of a pool. The dead woman had a red-hot secret about leading man Nick Tremayne, but now Irene's investigation into the drowning is a threat to the powerful Hollywood men willing to do anything to protect their investment. Seeking the truth, Irene finds herself drawn to Oliver Ward, a once world-famous magician—until he was mysteriously injured during his last performance. Now the owner of the Burning Cove Hotel, he can't let scandal threaten his livelihood, even if it means trusting Irene

. With Oliver's help, Irene soon learns that the glamorous paradise of Burning Cove hides dark and dangerous secrets. And that the past—always just out of sight—could drag them both under.

.
Come Sundown

by

Nora Roberts

The Bodine ranch and resort in western Montana is a family business

kept running by Bodine Longbow with the help of a large staff, including new hire Callen Skinner. Bodine's aunt, Alice, ran off before Bodine was born. The Longbows don't talk about her and believe she is dead---but she's not. When Bo and Cal discover Alice's battered body in the snow, it's the first sign that danger lurks in the mountains that surround them. The twisted story Alice has to tell about the past -- and the threat that follows in her wake -- will test the bonds of this strong family, and thrust Bodine into a darkness she could never have imagined

.
Contact your librarian for more great books!
Avon Lake Public Library

32649 Electric Blvd.
Avon Lake, Ohio 44012
440-933-8128
alpl.org